Six innovators from Anambra have represented the state at the just concluded i-FAIR Programme which took place at SkillG center, Abuja, ANAMBRA PEOPLE reports. The Innovation Fellowship for Aspiring Inventors and Researchers (i-FAIR) is an initiative spearheaded by the Israeli Embassy in Nigeria for raising a generation of innovators, inventors and researchers in Nigeria.
The 6-months initiative for start-ups had in attendance over 50 innovators and researchers across the country. The programme is part of the Nigerian government efforts geared towards the promotion of growth and entrepreneurship in the country. The Federal Government through the Office of the Vice President of Nigeria provided the needed workspace; equipment and mentoring to participants, to enable them transform their idea into inventions, innovations into solutions and prototypes, ready for industrial uptake.
Some of the innovators and inventors who represented Anambra at the i-FAIR programme include;
Ejikeme Patrick Nwosu: he developed an indigenous climate-smart technology that converts urine and other wastes into clean renewable energy and organic fertilizer, using urine diverting toilets and add-on parts using locally available materials developed at iFAIR.
Ekejiuba Daberechi Kingsley: he developed Green Peel Bag, a garbage collection bag that is made from the combination of Cassava peels and polythene. It is an environmental friendly packaging solution to reduce plastic pollution. He equally developed a mini extruding machine with programmed electronic control unit.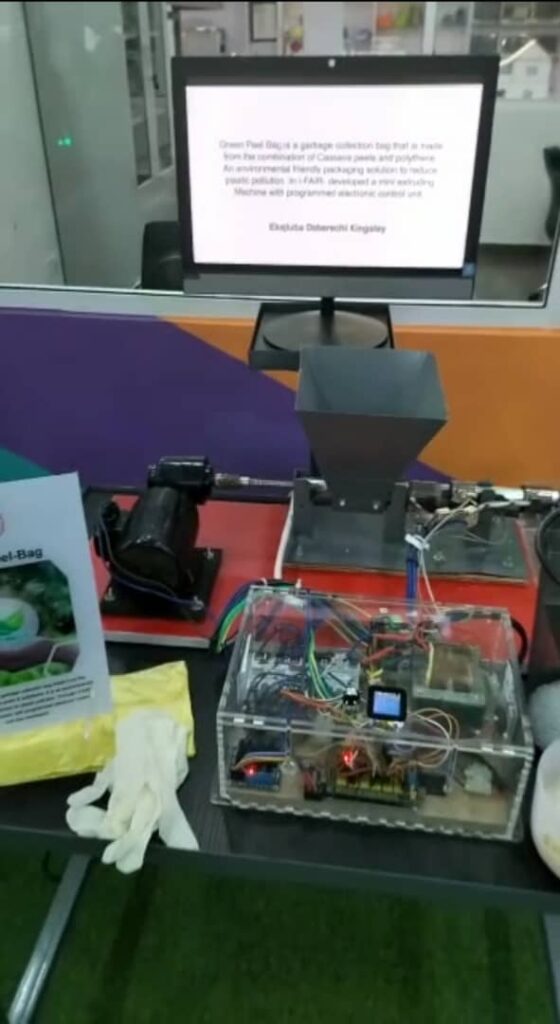 Dozie Igweilo: he developed solar lanterns and other solar energy devices utilizing electronic waste.
Alex Inoma: he developed a detachable device which can convert manual wheelchair to be powered at about a quarter of the current cost of the average electric wheelchair.
Ekwunife Onyeka: he developed WLMS, a system that monitors the level of different liquids inside containers. In the case of petro tanks, the level can be viewed through mobile application while in the case of overhead tanks, the water level is sent to the control box to either turn on/off the water pump.
Owura Josiah Ekene: he developed Soil-Telligence, a mobile IoT based soil nutrient monitoring analysis and evaluation system for farmers. This helps to reduce the problems involved in the life cycle of a crop from the point of germination to harvest.
About Author