ANAMBRA PEOPLE reports that the off-road vehicle's official launch took place on Wednesday at the ongoing 16th Edition of the Lagos Motor Fair and Autoparts Expo Africa.
The classic Ford Bronco made a comeback in 2021, after being out of production since 1996. At the 2017 North American International Auto Show in Detroit, Ford announced the Bronco's imminent return.
Speaking on the newly launched vehicle, the General Manager, Marketing and Communications of Coscharis Group, Abiona Babarinde, said, "The Bronco has come home to stay in Nigeria. Given the adventurous nature of our people and the challenging topography of some of our communities, the Bronco will soon become a must-have for everyone who can afford it."
He added: "The Bronco is engineered to deliver thrilling and confident off-road experience, building on the DNA of the original 1966 Bronco and its racing heritage. It gets even better with ingenious new updatable technologies and adventure-ready attributes created for today's outdoor enthusiasts".
The Bronco is equipped with numerous off-road safety and comfort features and is designed to take you to incredible locations while providing confidence on any terrain.
Speaking further on the Bronco, Justin Ngini, Deputy General Manager, Ford Sales, Coscharis Motors said, "The Bronco Wildtrak you are seeing today assures of value for money as it comes packed with a 2.7L Ecoboost Engine, 10 speed Automatic Transmission, 17 Inches Black Gloss-Painted Aluminium Wheels, Sound Deadening Headliner, 6 Speaker Sound System, SYNC4, Navigation System, Leather Trims, and many other, comfort and safety features to help you navigate through any kind of terrain your journey throws at you."
Coscharis Motors, according to Ngini, would provide an enjoyable customer experience to enthusiasts who purchase a Bronco from the company.
He said, "As the exclusive Ford dealers in Nigeria our OEM trained sales and aftersales teams are poised to deliver a world-class customer experience to our Bronco, and by extension, all other Ford brand customers in the country."
Speaking further, Ngini said "We are easily accessible, with presence in the six geopolitical zones of the country.
"Coscharis also offer trade-in opportunities for customers who wish to exchange their old Ford vehicles for a new Bronco or any other Ford variant. We can also help to arrange finance options for interested customers who want to buy now and spread payment over a period of up to 5 years,", he stated.
Ford's off-road SUV expertise traces back to World War II, when the automaker was part of a government competition to build rugged carry-all utilities for GIs in the battlefield.
Ford's entry was called the GP, with the company building more than 270,000 of these "general purpose" vehicles for Allied forces. GIs returning home bought Army surplus GPs for work and play, but they were too small and uncomfortable for civilian life, according to Ford research from the early 1960s, so Ford developed a more refined, spacious, yet durable off-road vehicle to meet this need – Bronco.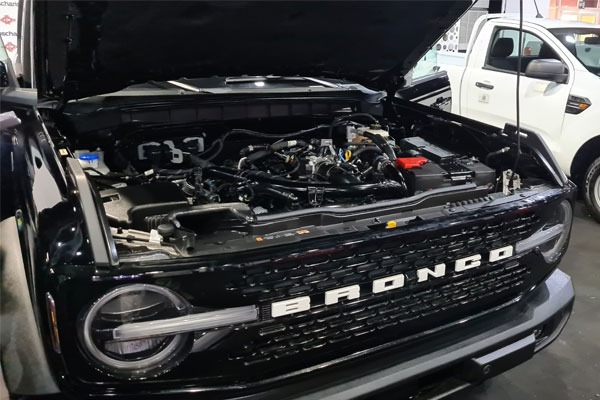 At the auto show, the Bronco wasn't the only Ford model on display. The Ranger (pickup), which now offers a one million naira discount for fleet purchases of at least five units, and the Figo, a sedan car with a one million naira discount for fleet purchases of at least five units, were also on exhibit. Other variants of Ford on display include Explorer and EcoSport.
Coscharis Motors Plc has the exclusive franchise for Ford, in Nigeria with dedicated sales and service showrooms and workshops in all the six geopolitical zones.
About Author