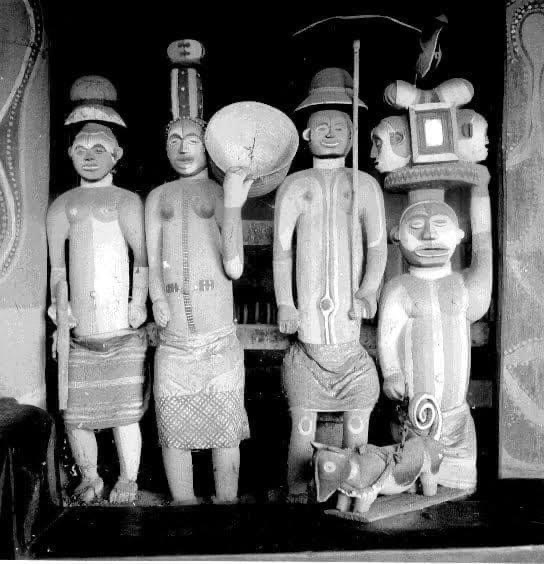 London, UK – In a series of unsettling events, Don Ebubeogu, Chairman of Tiger Foods Ltd, encountered the mysterious deity Arọbinagụ, sparking fear and confusion. The encounters took place both in London's British Museum and in a village in Anambra, Nigeria, leaving Ebubeogu shaken and seeking answers.
The eerie incidents began when Ebubeogu visited the British Museum, known for its extensive collection of historical artifacts. While browsing the African collections, he unexpectedly came face to face with Arọbinagụ, an Igbo deity. Suddenly, the table housing the deity began to vibrate, leaving visitors bewildered. Chaos ensued when the glass cubicle housing Arọbinagụ shattered, prompting evacuation from the museum.
Ebubeogu and other witnesses were then interviewed by the museum curator, who revealed that this was not the first occurrence of such an event. In 1958, before Nigerian Independence, a Chief Priest from Anambra had demanded the return of Arọbinagụ, leading to a similar incident. Assuring the curator of his innocence and business intentions, Ebubeogu was allowed to leave.
In a shocking turn of events, Ebubeogu experienced a similar occurrence upon his return to Anambra. While purchasing organic fruits in the village square, he felt the ground vibrate, causing the fruits to scatter and birds to frantically flee. The eerie phenomena reached its climax as a large branch of a nearby tree snapped and crashed to the ground. Ebubeogu interpreted this as Arọbinagụ reenacting the London incident.
Disturbed by these encounters, Ebubeogu sought advice from Igbo history professors, who suggested returning Arọbinagụ to the British Museum. However, reluctant to cause any diplomatic issues, Ebubeogu, a focused businessman on the verge of launching revolutionary products, hesitated to pursue this option.
Despite the unsettling experiences, Ebubeogu remains resolute, determined to continue his business endeavors without distraction. He calls upon others to keep him and his company, Tiger Foods Ltd, in their prayers during this challenging time.
As the enigma surrounding Arọbinagụ deepens, it remains to be seen whether this powerful deity will find its way back to its rightful place, and what implications these encounters may have for Ebubeogu's future ventures.
About Author