Vigilante operatives have allegedly tortured a 22-year-old man to death in Ifite Nanka, Orumba North Local Government Area of Anambra State, ANAMBRA PEOPLE reports.
According to source from the area, the incident happened on Wednesday at Ifite Village Hall, where the deceased, identified as Osondu Ezemmaduchukwu, his immediate elder brother, Robinson Ezemmaduchukwu, and other suspects were said to have been locked by the community's vigilante operatives for alleged theft.
It was gathered that the vigilante had allegedly tortured another suspect to death just few months ago before Osondu, who was arrested alongside his elder brother and one of their neighbours, simply identified as Onyeneke, sometime last week for allegedly robbing one Mr. Daniel Ezeilo of the same Ifite village.
According to the eldest brother of the deceased, Mr. Ebere Ezemmaduchukwu, the alleged robbery case for which his two brothers were arrested had long been settled when their father was mandated by the vigilante operatives to pay certain amount of money for some damages allegedly caused in their office by the late Osondu when only him was first arrested for the case; and after which the case was closed.
He explained that after some weeks the matter had been closed, the vigilante (security) men came back again and (this time) arrested both Osondu, his elder brother, and one of their neighbors, simply identified as Onyeneke over the same issue, claiming that the said robbery may have been perpetrated by them and their friends, because they were seen smoking in an uncompleted building located at the back of the house of the man who was robbed, prior to the robbery incident.
He further noted that the re-arrest was done shortly after a family (land-tussle-related) problem between their father and one of their uncles, who also allegedly threatened to deal with Osondu and his brother for their involvement in the issue. He also recalled that when his brothers spent some days in the custody of the vigilante, some of the vigilante had sometimes confided in his father that his brother (the said uncle) was making efforts to see that they were not released.
He said: "Eventually, the security people demanded my father to pay them the sum of forty thousand naira (₦40,000) for my brothers to be released. And we started running around for the money. They also told him that the village Chairman would come back on Sunday (this past Sunday) to make his own opinion or condition known about my brothers' release.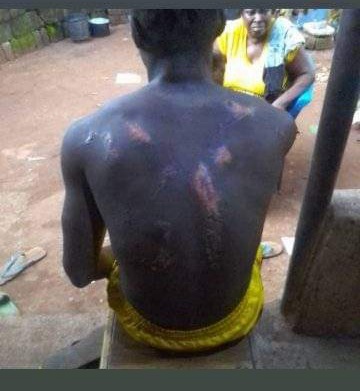 "We waited till Sunday, but the Chairman never came back, even up till Monday. And my brothers kept languishing in the vigilante custody. My mum was calling me from time to time, crying on phone and telling me what my brothers were passing through in the hands of the vigilante men, both the torture and other things they were being subjected to. I was wondering why someone would be accused of committing a crime, arrested and detained by the local vigilante (even when they do not have any evidence that he actually committed the said crime nor see him with any exhibits); and yet they did not hand him over to the police, but kept torturing him as they wish. I was told that during interrogations, he had severally told them categorically that he did not know anything about the said crime. And yet, they did not release him.
"My brother, to cut the long story short, as we were waiting to know the next line of action and also making efforts to secure my brothers' release, since the Chairman didn't come back again as discussed; the next thing was that I received calls yesterday (Wednesday), informing me that my younger brother had died in the vigilante custody; and that he died after vomiting foams."
Ebere said he was rightly informed that the vigilante operatives kept 'panelbeating' his brothers and eventually took the younger one (Osondu) away from where his elder brother was on Tuesday night, after he was forced to eat few spoons of the food they brought for them that night, when he (Osondu) dyingly complained of tiredness, after being severely tortured by them.
According to him, it was when their father went to visit them on Wednesday that he saw Robinson weeping, and, when asked what was happening, he told him that his younger brother had died, after which he also showed him his corpse where they abandoned it in the Hall. He further revealed that Robinson was released by the vigilante shortly after the death of his brother. He also said Robinson himself sustained severe injuries, such that their father even had to rush him to hospital for treatment when he was eventually released.
While expressing deep sorrow for the demise of his younger brother, he called on the government, police and human rights groups to wade into the issue and ensure that justice prevails.
However, in an address earlier issued on the matter, the Ifite Village Chairman, Mr. Mike Ezemmaduka alleged that Osondu died after the vigilante operatives found and brought him back their office from where he fainted while trying to escape from the vigilante custody with his elder brother, whom, they said, broke off their handcuffs and broke out the protector of the Hall where they were detained and escaped.
He explained that after reportedly breaking the Hall and escaping, Osondu fainted halfway while his brother abandoned him there and escaped; and further revealed that the eacaped brother's whereabout is still unknown, as the vigilante are still searching for him.
While noting that it was some other suspects also detained in the Hall that informed the security men of the escape, which made them to start tracking and searching for them until they eventually found Osondu where he fainted and took him back to their custody; the Ifite Village Chairman also revealed that the vigilante's decision to locked up the suspects in the Hall was because Police told them that they were no longer accepting or remanding suspects in their cells because of the security situation in the state.
He said some youths in the village had already stormed the Hall in anger but eventually decided to sheath their swords when other detained suspects in the Hall told them the truth about what really happened.
He highlighted some of the criminal activities that had taken place in the village in recent time, which, he said, the security operatives are bracing up to quench; even as he further opined that it was through such minor criminalities that youths would metamorphose into hardened criminals and even unknown gunmen, and constitute terror to the society, if not cautioned on time.
Mr. Ezemmaduka further revealed that the issue had been reported to the police for further investigation, even as he sued for calm in the village as investigations go on.
When contacted for their separate remarks on the issue, the Police Public Relations Officer, Anambra State Police Command, DSP Tochukwu Ikenga; and the Chief Press Secretary to the state Governor, Mr. Christian Aburime, said they did not have any such information before them, but promised to make enquiries and get back to this reporter.
Izunna Okafor
About Author