Governor Chukwuma Charles Soludo, today Sunday, March 20, 2022 attended St.Theresa's Catholic Church in Isuofia for thanksgiving
Governor Soludo who was accompanied by his wife, Mrs Nonye Soludo were at the church to express appreciation and gratitude to God for His grace and protection.
In his homily, the presiding Bishop, His Lordship, Most Rev'd Peter Ebere Okpaleke, Bishop of Ekwulobia Diocese, congratulated Prof Soludo on his ascendancy as the new Governor of the State.
Bishop Okpaleke advised Prof Chukwuma Charles Soludo to always apply wisdom in his approach to governance. "Be a wise leader and the people will follow you faithfully".
The Bishop emphasised that the church has the authority to pray for those in authority and Leadership position. He described Soludo as an intelligent man, adding that the government of an intelligent man must be well ordered to produce good dividends.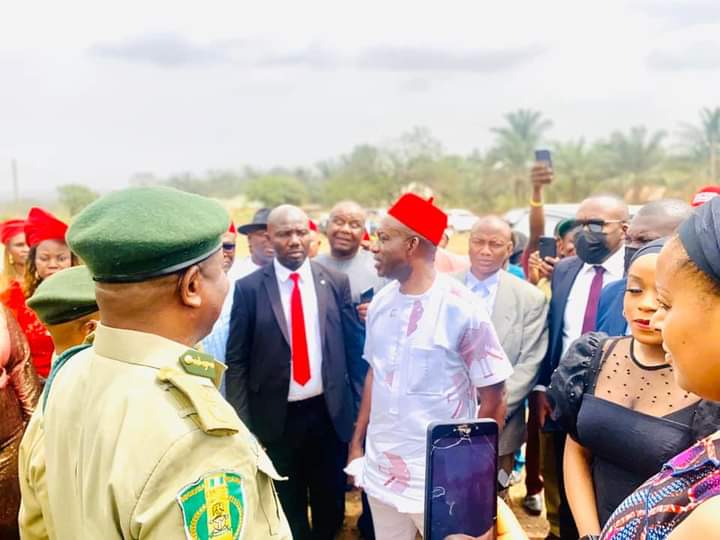 The Bishop further said his message to the new Governor equally goes to the Deputy Governor, the Judiciary, Members of the State House of Assembly and the State Executive Council that will be formed later
In his remarks, Governor Chukwuma Soludo expressed gratitude to God for His grace and protection. He told the congregation that there was really no need for elaborate celebration. He reaffirmed that he will never use the state resources for merry-making and ostentatious celebration but would rather be deployed for the fundamental needs of Ndi Anambra.
He expressed optimism that former Governor Willie Obiano whom he described as a good man and currently being detained by the EFFC will soon be released.
He briefed the congregation of his activities over the past 72 hours he assumed office as Governor of Anambra State, this include his visit to Okpoko and the banning of the nefarious activities of touts (Agberos) in the state.
Other dignitaries at the occasion include the Deputy Governor, Dr Onyekachukwu Ibezim; Speaker, Anambra State House of Assembly Rt. Hon Uche Episeni Okafor including some Honourable Members of the House; Secretary to the State Government, Prof Solo Chukwulobelu among others.
In a related development, Governor Soludo also on the same day visited the Ekwulobia Correctional Centre where he called for speedy dispensation of justice in the nation's judicial system.
© Christian ABURIME
About Author