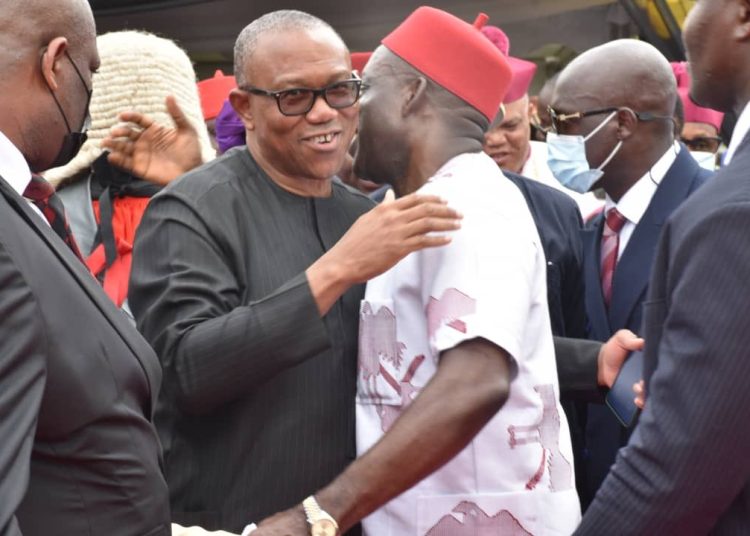 Mr Chris Aburime, Press to Prof. Chukwuma Soludo says the governor is the father of Anambra by his position and will not plot or collude to harm any lawful citizen of the state including Mr Peter Obi, a former governor and presidential candidate of the Labour Party.
Aburime spoke on Monday in Awka while reacting to a viral message in the social media which alleged that Soludo had been contracted to eliminate Obi for a fee.
The message which was entitled "Hold Soludo Responsible If Anything Happens To Peter Obi" said Soludo's hatred for Peter Obi and everything he stands for is becoming glaring as things unfold.
"Yesterday, a Helicopter entered Awka by 1:30am and took Soludo to a secret meeting at Government House, Owerri. The agenda of the meeting is Peter Obi and how to stop him physically, politically and otherwise.
"Soludo was given Five Million Dollars in 100 dollar bills for the hatchet job and Soludo promised to eliminate Peter Obi…," it said.
But Aburime dismissed the piece as infantile, nauseating, mischievous, unnecessarily inflammatory and figment of the imagination of authors.
He said Soludo in spite of political leaning remains a brother and friend of Peter Obi and would not think of hurting him or any other person for political reasons.
According to him, Soludo is the father of all and he has a good heart towards everybody. I am surprised that people can concoct this type of blackmail against him.
"I want to state categorically that there is no iota of truth in that write up, he did not go to Owerri and he was not offered any sum of money to harm anyone, not even his brother Mr Peter Obi an illustrious son of Anambra.
"Soludo wishes Obi well, he appreciates Anambra voters for supporting massively, of course, he predicted his victory in Anambra and remember, there was no form of violence or electoral malfeasance in Anambra Anambra, that speaks a lot about the peaceful nature of Soludo," he said.
Aburime said there was no benefits either personal or generally for anybody who wished to create animosity between two national human capital assets and great sons of Anambra through mischief.
He said the development, protection of lives and property and sustainable progress of Anambra should be the bigger picture which should occupy the minds of Ndi Anambra than the personal interest of those desirous of causing chaos in the State!
Aburime called on Anambra electorate to come out en masse on March 11 and vote for candidates of the All Progressives Grand Alliance (APGA) for the State House of Assembly the way they supported Obi for stability and progress in Anambra.
By Titus Chigozie
About Author