Anambra State House of Assembly committee on public petitions has assured of amicable resolution of the matter between the upgraded PTA teachers and the Ministry of Education, ANAMBRA PEOPLE reports.
The committee gave the assurance during their meeting with the two groups held at the House of Assembly complex in Awka.
About one thousand upgraded PTA teachers in Anambra state had petitioned the Anambra state House of Assembly alleging that their appointments were terminated after they had worked for six months without pay and prayed the House to urge the executive arm of government to reinstate them.
Consequently, the House directed its committee on Public Petitions to look into their case and report back to them.
In the meeting of the House Committee on Public Petitions with the upgraded PTA teachers and the key officials of the Ministry of Education, the Commissioner for Education, Professor Ngozi-Chuma Udeh explained that she does not have a record of the PTA teachers and insisted that the state government has not terminated their appointment.
She disclosed that the teachers narrated their ordeal to her after Governor Chukwuma Soludo has instructed her to put in place processes for teachers recruitment exercise.
According to Professor Chuma-Udeh, in her meeting with the teachers, she advised them to key into the recent teachers recruitment exercise conducted by her ministry as a means of reassessing them. This she further explained to them, was because the present administration wanted to have a brand of teachers that would move the schools in the state to meet the technological world adding that they would be given leverages.
The Commissioner expressed disappointment that most of them who did not heed her advice went online insulting her and scandalizing the government, adding that those of them that participated in the recruitment exercise will come for the oral interview and join the system, while others who did not partake in the exercise will wait for the next assessment to join in the exercise.
In their reaction, the PTA teachers who spoke through their lawyer, Barrister Emeka Egbo prayed the state government to consider those of them that are qualified in the recruitment of teachers since they contributed immensely to the development of education.
Corroborating their submission, one of the teachers, Mr. Uchenna Eze apologised on behalf of the teachers for the public insult on the Commissioner by some of their colleagues, assuring that such ugly trend would not repeat itself.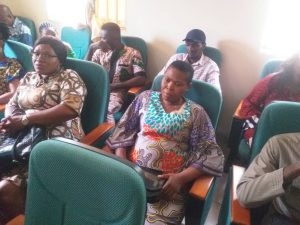 In his remarks, the chairman of Anambra State House of Assembly committee on Public Petitions, Honourable Emeka Aforka said the committee will invite key officials of Anambra State Universal Basic Education Board and Post Primary Schools Service Commission as well as the immediate past Commissioner for Education, to ascertain why there is no record of the recruitment of the teachers in the Ministry of Education, since they were the people that gave them employment letters.
About Author