2023; SEN UCHE EKWUNIFE CLOSES THE CASE FOR ANAMBRA CENTRAL SENATORIAL DISTRICT QUEST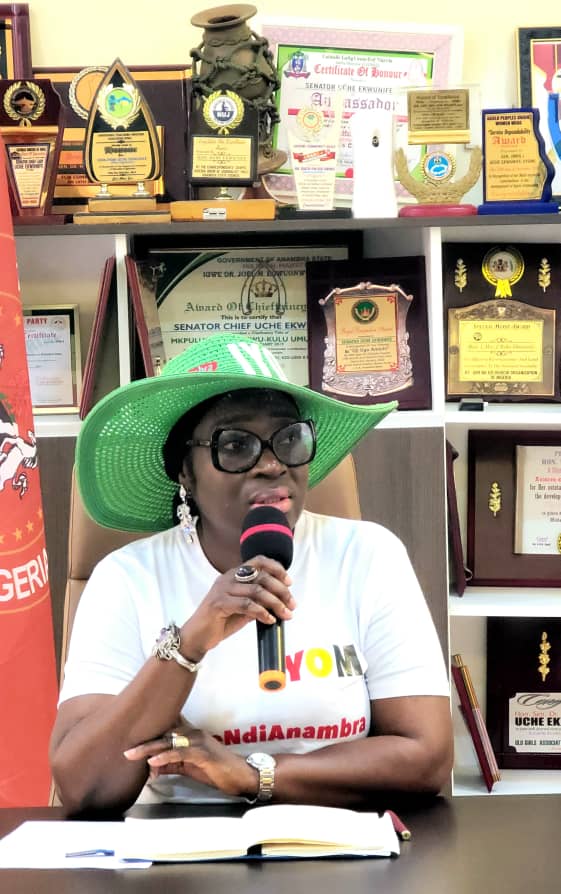 …..as others scramble for unatenable spurious endorsements.
In every election circle the "perpetual endorsers" go to work. However, the funny thing remains that these "endorsers" who dress in nice outfits make a joke of themselves, especially now, as it concerns Anambra Central Senatorial District.
In 2015, as a House of Representatives incumbent, Sen. Uche Ekwunife ran as a Senator and floored the incumbent Senator then, Chris Ngige and defeated Victor Umeh in a keenly contested election that became a watershed in the annals of election contests in Nigeria. Her uncontestable accomplishments as a House of Representatives member, representing Anaocha/Njikoka/Dunukofia gave the Anambra Central voters confident that Iyom will excel if given the opportunity. And the voters did.
And to crown her electoral efforts, Sen Uche Ekwunife was made the Chairman of the Downstream Sector Committee in the Senate. She deployed that position very effectively to further fight for Anambra State to be enlisted in the Oil Producing States. Today, we have seen the good result she got involved in, then.
Where were the endorsers then? Again in 2019, her 7/7 landslide victory caused electoral pandemonium in Anambra Central where two tough fighters also contested against her; Chief Sylvester Okonkwo of APC, and Chief Victor Umeh of APGA, as well as others. All the judicial abracadabra to truncate that victory as they did in 2015 proved abortive. Today, Sen Uche Ekwunife has proven to Ndi Anambra Central Senatorial District that she means business. It's happening here, friends. Iyom is doing the doings !
As President Obasanjo said; "one can't endorse failure" ! All those parading themselves to challenge Sen Uche Ekwunife today are holding critical positions, or have held one before now. Those endorsing them did not ask them what impact they made with powerful positions they held, or are still holding that will even elicit support from the people " The "Onye ndozi" among them is holding the position of Member, House of Representatives. The good people of DNA are still wondering "is this not the position Iyom held and did wonderful in the Constituency?" Questions are being asked what impact "Ndi na atu Uzu" made with their powerful position in the just outgone regime to even give him the impetus to be mounting their Bill Boards in every corner. For "Onye Okpu ogonogo"; does he not know that "agadi nwanyi daa nda ada na abo, a guo ihe obu na ukpa onu "! So these are people enjoying festivals of endorsements; for what, we ask? To what end? Don't they know that our able Senator Uche Ekwunife has been endorsed by all the voters in Anambra Central Senatorial Districts" ; where they all chorused together that in Anambra Central that there is no vacancy ! So we in Anambra Central are wondering; these purchased endorsements, to what extent, to what use? The accomplishments of Senator Uche Ekwunife, (too long to catalogue here) are quite intimidating, and it will be doing the good people of Anambra Central Senatorial District a disservice to contemplate changing a success!
Dr Chuka Onyemasi
Umuokpu, Awka