SOLUDO HOSTS OBI CUBANA, CONSIDERS APPOINTING HIM GOODWILL AMBASSADOR
The executive governor of Anambra state, Prof Chukwuma Soludo received the Chairman/ CEO of CUBANA Group, Chief Obi Iyiegbu and had a fruitful discussion on ways the group could play a major role in the new administration's investment drive.
Obi Cubana has continued to show deep interest in the overall development of Anambra state particularly in the real estate sector.
Early this year, he had led some big players in the real estate industry for an on the spot assessment of the AWKA MILLENNIUM CITY to know how they can partner with the developers of the estate to attract investors. Apart from real estate, he and partners also have eyes in the entertainment and manufacturing sector and plan to employ thousands when their investments takeoff.
Obi Cubana has been on the news since the grand, much talked about burial of his mother at Oba and recently, the promotion of Odogwu bitters which has gained very wide acceptance in the market.
It is this popularity that the governor, Prof Chukwuma Soludo has been advised to take advantage of and use him to mobilize support from young Anambra entrepreneurs mostly in Lagos to see ways they could look home and replicate their Lagos 'wonders' in ANAMBRA State.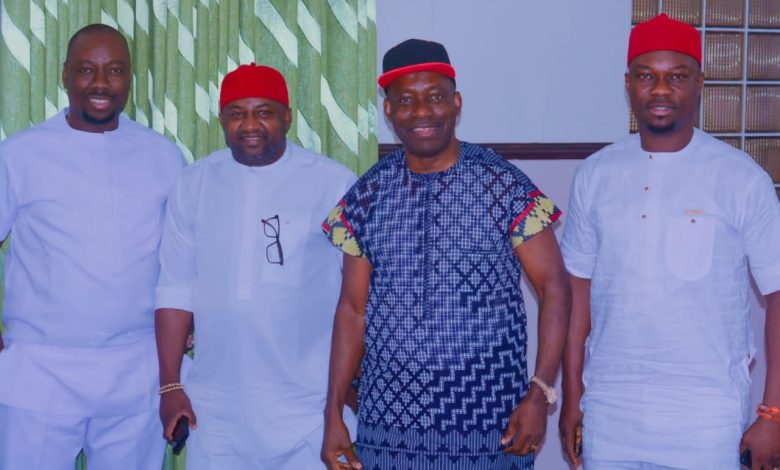 Our reporter gathered that Soludo is willing and almost begging to make him Anambra goodwill ambassador and may even want to go a step further in recognizing him as Honorary Special adviser on investment, but it appears Obi Cubana prefers to offer his services without any nomenclature attached to it as he believes that this might be a way to help create opportunities for Anambra youth and serve the state in his own capacity.
Obi Cubana confirmed the meeting on his Facebook page and wrote "we were warmly received today by our state governor, Prof. Charles Soludo. Very passionate about Anambra state!!! He personally jotted down all our points and suggestions, personally!!! I can boldly tell Ndi Anambra that 'ife ga-adi mma', again!!! 'Aku lue uno' loading!!! Entertainment, Real Estate, Industry, we are coming".
Chief Obi Iyiegbu was accompanied to the meeting by Okija born philanthropist and entrepreneur, Chief Abig Nwankwo and others.