Anambra Govt Demolishes Illegal Structures at Old Oba Airport Site, Idemili South Council Area
Anambra state government taskforce on land recovery has frowned at trespassers encroaching on government lands at the old Oba Airport Site, ANAMBRA PEOPLE reports.
The Taskforce demolished some perimeter fencing and illegal structures under construction at old airport site in Oba, Idemili South Local Government Area.
Speaking in an interview, the Chairman of Anambra state Physical Planning Board, Barrister Chike Maduekwe who is also a member of the Government Taskforce, said that a gang of youths at Oba mapped out some part of the land and sold to some unsuspecting buyers who built some structures on the land.
Barrister Maduekwe said that the youths of Oba also collected exorbitant sum in the name of one fee or the other from government estate developers.
He said that developers should be allowed to possess and enter any land allotted to them by the government without fear of harassment of any kind.
He warned all illegal developers to stay clear from the government land as government will use the land to develop a modern estate which people have been clamouring for.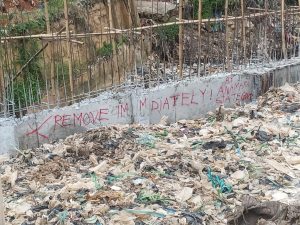 Speaking at Biafra Market, Onitsha, Barrister Maduekwe explained that the ongoing demolition exercise was part of Governor Soludo's pledge to Ndi Anambra, including desilting of the waterway from Sakamori to Nwangene which has almost been completed.
He explained that the task force discovered that people have taken money and grabbed the land that should be the waterway, sand filled it and diverted water through some narrow places resulting to environmental challenges.