Ken Emeakayi Emerges Caretaker Committee Chairman Okija Town Union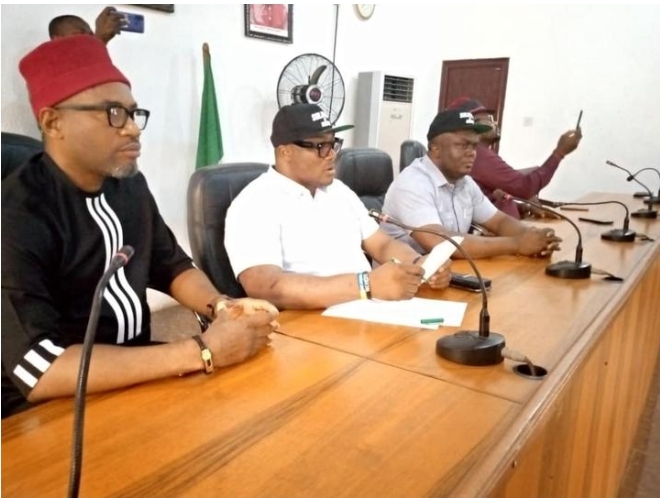 Chief Ken Emeakayi has emerged the caretaker Committee Chairman of Okija town union, ANAMBRA PEOPLE reports.
The nomination of Chief Emeakayi and other caretaker committee members of Okija Town Union was held at the SSG Conference Hall, Government House Awka.
Chief Emeakayi was unanimously elected by members from Ubahu Abu Ubahu, Uhuobo, Uhuowelle and Ihite Abu Ihite, Okija, in Ihiala Local Government Area of Anambra State.
The elected executive members present also unanimously elected Barrister Ikenna Obidiegwu as the Secretary General, Mr Nwabueze Umeh was voted in as Financial Secretary while Comrade Chukwuebuka ilo was also nominated the Public Relations Officer of the Caretaker Committee of the Town Union.
Addressing the Stakeholders from the three quarters of the town, Anambra State Commissioner for Local Government, Honourable Collins Nwabunwanne who represented Governor Chukwuma Soludo reminded them that they collectively voted in the caretaker executive to serve for twelve months to enable them draft the constitution of Okija Town Union and congratulated them for the peaceful nominations which he described as exemplary.
Commissioner Nwabunwanne explained that the state government will at the end of the twelve months, organize election that will usher in elected executive that will serve the town with the laid down constitution.
The Local Government Commissioner made clear that nobody that served in the new caretaker committee will be allowed to contest in the main town union election that will be conducted at the expiration of twelve months.
He charged them to live in peace and carry everybody along, even as he urged them to support the Soludo administration in fighting crime and criminality in their town and the State, stressing the need for them to know their neighbors and report criminal elements in their domain to the appropriate authorities.
In his remark, the Deputy Speaker, Anambra State House of Assembly, Honourable Pascal Agbodike congratulated the elected caretaker committee members and commended them for keying into Governor Soludo's vision and mission as well as demonstrated that Okija is a peaceful town while promising them efficient and quality representation.
Responding, the new Caretaker Committee Chairman, Chief Emeakayi, appreciated Governor Soludo, Commissioner Collins Nwabunwanne and Honourable Pascal Agbodike for their efforts in putting to an end the lingering differences and restoring peace and stability in Okija town, and promised to abide by the rules.
Present at the event were ASATU President General, Barrister Titus Akpudo, ASATU Zonal Leader Sir Chuka Dennis and Barrister Ozoemena Erinne among others.