Anambra @ 31, Soludo Speaks from Rome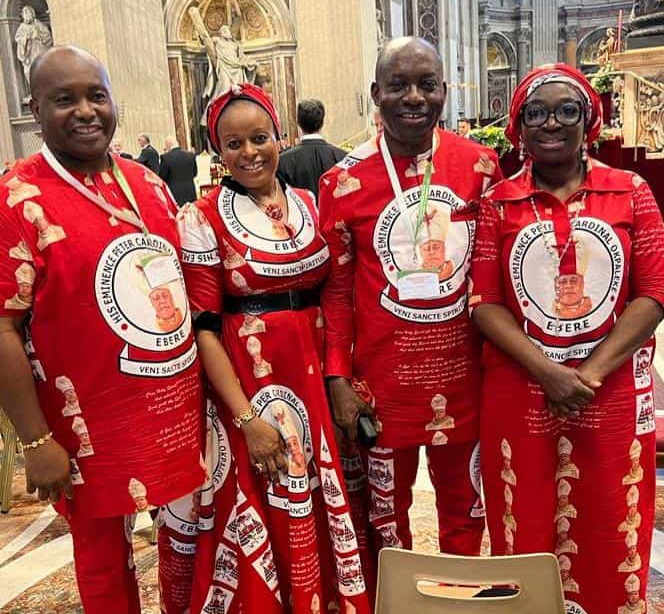 Christian ABURIME
As a way to mark the 31st anniversary since the creation of Anambra state, Governor Chukwuma Charles Soludo, CFR, in company of his wife, Mrs. Nonye Soludo and a contingent of Ndi Anambra, attended the creation ceremony for a new Cardinal, Bishop Peter Okpalaeke, one of the two newly created Cardinals from Africa.
Below is the full but brief message:
"Umunne Ndi Anambra, ekenem unu".
"Today is a special day in the life of our state. Today marks the 31st Anniversary since the creation of Anambra State and I bring you felicitations from the St Peters' Square, Vatican, Rome".
"Coincidentally, myself, my wife and a contingent of Ndi Anambra are here to witness the creation of a new Cardinal, one of the two created from Africa is our own brother and worthy son of Anambra State; Bishop Peter Ebele Okpalaeke".
"It's quite a coincidence that a new Cardinal from Anambra State is being created exactly today on the Anniversary of the creation of the state thirty one years ago.
It's not a mere coincidence. There must be something spiritual about it.
Today, those of us from Anambra have come to celebrate with him and welcome him as he Recieves the Red Hat, but also to lift our state up high unto the Lord for his bountiful blessings, not only on the Cardinal but on the people of Anambra as we March on to a liveable and prosperous smart mega-city", the Governor concluded.