Soludo flags-off 14,053 km road construction in Anambra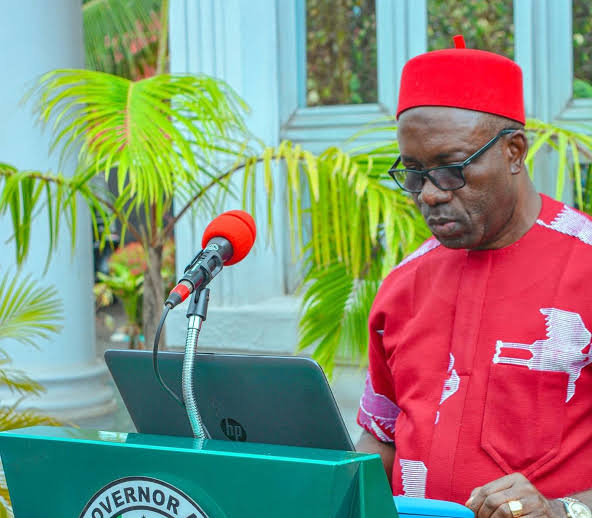 Governor Charles Soludo of Anambra State has vowed that the state would become a massive construction site in the area of infrastructural development, particularly roads, after the rainy season, ANAMBRA PEOPLE reports.
The governor flagged off construction of nine roads in Okpoko and the Mmiata-Anam-Nzam road, which has two bridges. This is in fulfillment of his administration's promise of building over 220 kilometres of roads across the state, before the end of this year.
The projects is said to be part of what Soludo had promised in his manifesto; to build more roads, as well as modernise and maintain existing ones with flyovers, bridges and pedestrians walkways.
The governor noted that this would effectively connect more communities to the urban setting, as well as boost the state's economic fortunes.
"In the state's 2022 revised budget, N54 billion, accounting for 50 per cent of the budget size, was dedicated to the Ministry of Works and Infrastructure for road constructions and maintenance in keeping with the administration's urban regeneration agenda."
"The nine roads are Obodo-Owerri road, 5.77km; Oguagu- Ik Onuorah-Anumudu-Mgbuka- Amazu-Owerri road, 2.97km; Edeh road-School road-Awalite – Ojoto-Owerri road, 1.48km; School road- Umuobom street-Ojoto street Junction, 0.58km and Umuobom street (Ojoto street Junction-Adazi Ani street- Owerri road, 0.77km.
Others are Umenweke street (Obodoukwu Junction)-Umeojiakor Street (School road Junction), 0.58km; (Ojoto Junction)-Anumudu (Mgbuka Amazu Junction), 0.99km; Uzii street- Mission street (Awaited Junction), 0.54km and Anumudu street (Ik Onuorah Junction)- Gmi road- 0.38km.
Performing the flag-off at Okpoko, Soludo said the visit was his fourth time in Okpoko since the inception of his administration.
"What we have come to do today is about the promise we made to you. When I ran for governorship, there were three local councils I transversed, and the images I saw kept haunting me.
"These local councils are, Ogbaru, Anambra West and Awka North. I couldn't believe there were still places like this in Anambra. I made up my mind that these council would feel the impact of government. The rainy season is almost over. Every local government would feel our impact.
"We must give life to the population in Okpoko because they are also part of Anambra. We are conducting a study on how to provide water in Okpoko. We will move together.
"We are looking for a space for general hospital. We are also looking for a recreational ground within Okpoko. Life will come here," Soludo assured.