Cutix Plc Marks 40yrs Anniversary
Cutix Plc, Nigeria's Foremost Cable Manufacturer, has marked forty years anniversary of existence.
The Chief Executive Officer of Cutix Plc, Mrs Ijeoma Odunye during a press briefing in Lagos as part of the activities marking the fortieth-year anniversary of the company, said that Cutix Plc is an exceptional company that produces quality cables and wires.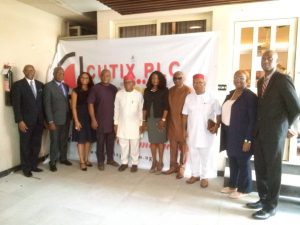 According to Mrs Odunye, the company started as a private limited company in the year 1982 and later became Cutix Plc when the Founder, Engr Ajulu Uzochukwu in 1983, got eighteen of his friends who put in their resources together in form of private placement to raise the sum of four hundred thousand naira then with which the company went into commercial production in the year 1983 together with the public offer in 1986 through which the company raised again one point six million naira at the capital market with the shares listed at the second tier security market of Nigeria Stock Exchange on 12th August, 1987.
Mrs Odunye who highlighted the achievements of the company to include migrating from second tier to the first tier of the equity market in 2008 and currently having eight thousand four hundred and ninety-five shareholders.
She also emphasized that despite numerous successes the company has recorded since it was established, Cutix Plc has continued to battle with poor infrastructure, multiple taxation, unstable government policies, difficulty in sourcing raw materials and influx of substandard products in the market among others.
In an interview, the founder of the company, Engr Uzodike, expressed gratitude to God over the success the company has recorded so far through the efforts of the management team.
The founder maintained that Cutix Plc has done Nigerians proud when it comes to maintaining exclusive good quality products in the country. He said their products are ranked the best in the country and not far off the top three in the world.
Among those present at the event were the representatives of government, manufacturing sector, and the media.
Bell ringing at the Nigeria Stock Exchange, Marina, Lagos Island and facts behind the figure, are also parts of the events marking the forty years anniversary commemoration.