Anambra Indigenes Plans To Build Multi-Million naira Tower.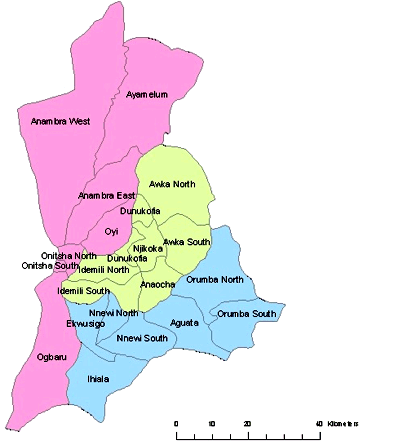 The Anambra Community in Aba, the commercial nerve centre of Abia State, has concluded arrangements to build a multi-million naira edifice to be called 'Anambra Towers' in the commercial city to immortalize their founding fathers and showcase their talents in entrepreneurship in Africa, ANAMBRA PEOPLE reports.
The planned towers, according to them, are estimated to cost about 2 .5billion naira, when completed, as they will also serve as a centre for business activities, excellence and unity.
Chief Sir Alphonsus Udeigbo, Vice Chairman of Anambra Unions who disclosed this stated that the rich cultural heritage of the Ndi Anambra will be made manifest in the building when completed.
Udeigbo opined that over the years Anambra Community in Aba had led the way in the commercial and business growth of the commercial town, stressing that now is the time to put in place an enduring legacy and monument for such huge contribution to Abia State.
Udeigbo, who was also the Secretary of the Planning Committee of the recently concluded 'Anambra Cultural Day' and currently the President General of Aba Landlords Protection and Development Association (APALDA) further stated that no Anambra indigene living in Aba will be left out in the execution of the project.
"It is a well-known fact that over the years Anambrarians have been leading the way for the business and commercial development of Aba. It is also known that Anambra people have a rich cultural heritage. So our intention was to use it to celebrate Ndi Anambra as well as our culture.
"The Anambra Tower will indeed serve as our rallying point, he declared.
Earlier, the Chairman of Anambra Unions, Chief Emma Nwakpadolu, had informed that this year's edition of the Anambra Cultural Day was originally scheduled for 2019, but had to be shifted to 2022 due to the COVID-19 pandemic.
According to him, the periodic event was conceived by their progenitors to serve as a vehicle for the sustenance and inculcation of their rich cultural heritage to future generations.
Nwakpadolu noted that the tower, apart from serving to promote business activities of the people, will create several job opportunities in the state. He, therefore, called on all public-spirited people to support the project.
The 2022 edition of Anambra Cultural Day had about 178 affiliate unions of Anambra people involved. It featured several cultural displays and exhibitions. It was attended by many dignitaries and political actors in Abia State and beyond.