Business Mogul, Benjamin Uba,Shuts down Aguata For Peter Obi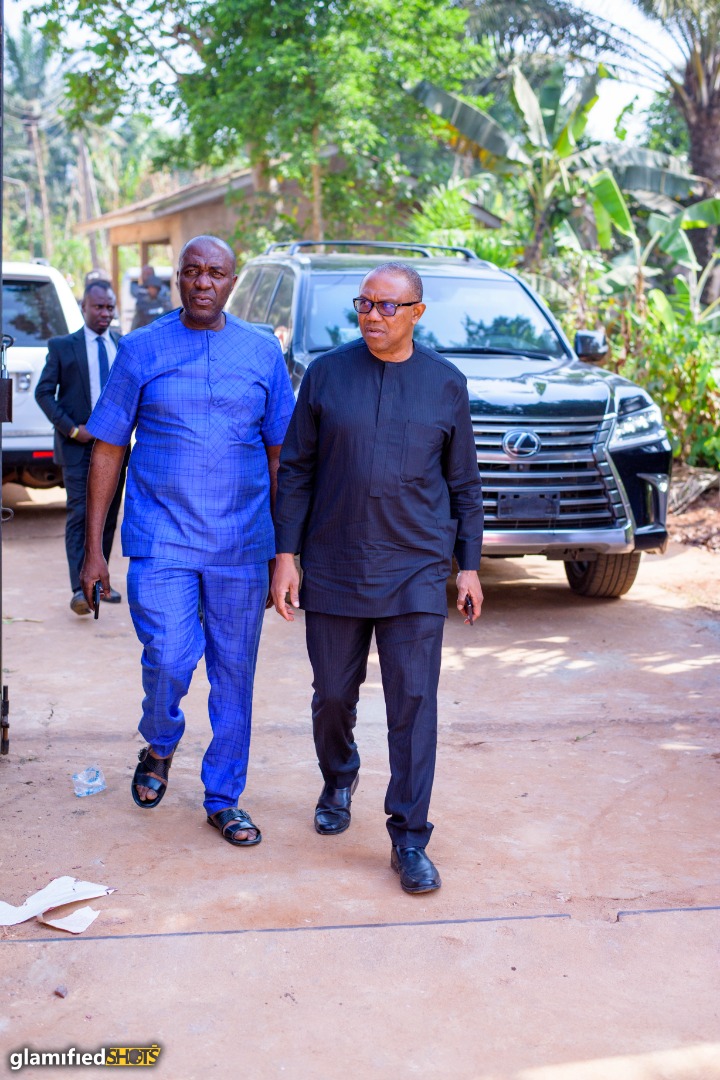 It was like homecoming yesterday for Mr Peter Obi as Business mogul and transporter , Chief Benjamin Uba( Ozonma) played host to the labour party presidential candidate and stakeholders of Aguata local government Area of Anambra State to deliberate and see ways they could continue to lend their support towards the success of Obi's presidential ambition, ANAMBRA PEOPLE reports.
The parley which took place at Chief Benjamin Uba's country home attracted who is who in the local government including the traditional ruler of Isuofia community,Igwe Col. C.A.O Muoghalu.
Speaking at the meeting on behalf of the representatives from the 14 communities that make up Aguata local government,a renowned industrialist Chief Paul Okonkwor , Chairman, Pokobros Industries ltd commended Chief Benjamin Uba for such an idea to bring some of them together for such a cause and emphasized that this journey to presidency has gone beyond ndi Igbo,expressing confidence that victory would certainly become the final destination.
Other speakers at the event including Dr Charles Dimnwaobi ,CEO Everyday Supermarket, Dr Godwin Okafor , Chairman,Winco foam, Engr Bart Nwibe(Ugo Igboukwu) Chief Andy Azike (ogbuji opia Aguata and Labour party House of representatives Candidate for Aguata) as well as Barr Arinze Ikeabanife (Labour party House of Assembly candidate for the local government) were in unison that Aguata would mobilize her people and resources for the project. They thanked him for restoring the image of the Igboman in Nigeria and assured of they would play their own role to achieve success.
Former PDP Candidate in the 2021 Anambra Governorship election,Mr Valentine Ozigbo who is also from the local government enjoined stakeholders to ensure that the local government comes first in the number of votes they poll for labour party during the Presidential Election. He charged them to see it as a challenge that Aguata was the first local government Mr Peter Obi paid visit as he begins tour of some local governments in the country.
In his reaction,the Labour party Presidential Candidate,Mr Peter Obi who spoke in Igbo language thanked the stakeholders for assembling for him in the bid to take back the country . He said his relationship with the local government particularly the Uba family of Isuofia has spanned a period of over 40 years and described the local government as a home for him.
According to him, I'm not running for office of the president because it's the turn of Igbos,but because I'm a Nigerian and the most qualified presidential candidate"
He charged his supporters to be respectful in pushing his candidacy and advised them to leave anybody who does not believe in the project.
Some of the dignitaries who were at the meeting include,HRH Igwe Col C.A .O muoghalu of Isuofia, Chief Benjamin Uba,Chief Evaristus Uba,Mr Valentine Chineto Ozigbo, Chief Paul Okonkwor (Pokobros),Barr Arinze Ikeabanife ,Chief Issac Okpala,Chief Andy Azike (ogbuji Opia)Chief Engr Barth nwibe( Ugo Igboukwu)
Dr Charles Dimnwaobi(CEO,Everyday Supermarket),Dr Godwin Okafor (Chairman,Winco foam)Chief Tony offiah (Akajiugo uga) and
Chief Sunday Ezeobiora (Chairman, Nigeria Poultry Association). Others are , Chief Patrick Ifionu,(Patfins) Barrister Leo Chiegboka, Chief Pius Moneme,Chief Uchenna Okpalaunegbu