Tummy- Tummy Boss, Etiaba, Others Bag Doctorate Degree.
Billionaire industrialist, Chief Chika Emenike, NPOM, the founder of Tummy Tummy Foods Industries Limited, a subsidiary of Kotec Group has been honored by the Imo State University (IMSU) during her 8th Convocation Ceremony, ANAMBRA PEOPLE reports.
The great entrepreneur, known for his commitment and consistency in business, received an honorary doctorate degree in Business Administration from the institution.
The amiable entrepreneur thanked the management of IMSU and the governor of Imo state for conferring such honor to him. On navigating difficulties in business, he advised businessmen to remain steadfast in their endeavors and hopefully the government will intervene quickly to balance the economy.
At the Kotec award reception, held at Rento Hotels owerri, the wife of the Kotec Boss, Lolo Prisca Amaka Emenike congratulated Dr. chief Emeka Emenike and revealed that he is a man of integrity and great wisdom. She added that what was witnessed in IMSU only attests to that fact. The damsel acknowledged the good deeds of the Imo State government and the University for "taking a step in the right direction ".
Chief Dr. Chika Emenike, NPOM (Ojichukwu Nnewi and Iheadikanwanne Ideato) is from Amanator Ozuakoli Urualla in Ideato North, Imo State. With over three decades of entrepreneurial experience .He has successfully expanded the Kotec Group to have over thirteen subsidiaries across different kinds of industries to include; spare parts, beverages, food, gas and agriculture.
The Governor of Imo State, Hope Uzodinma as a visitor at the event during his address congratulated the graduands and awardees and reminded them they are the ambassadors of the institution with responsibilty of bringing good review for the institution.
At the IMSU senate building, friends and family of the gradaunds and awardees , gathered in excitement to Celebrate their great achievement.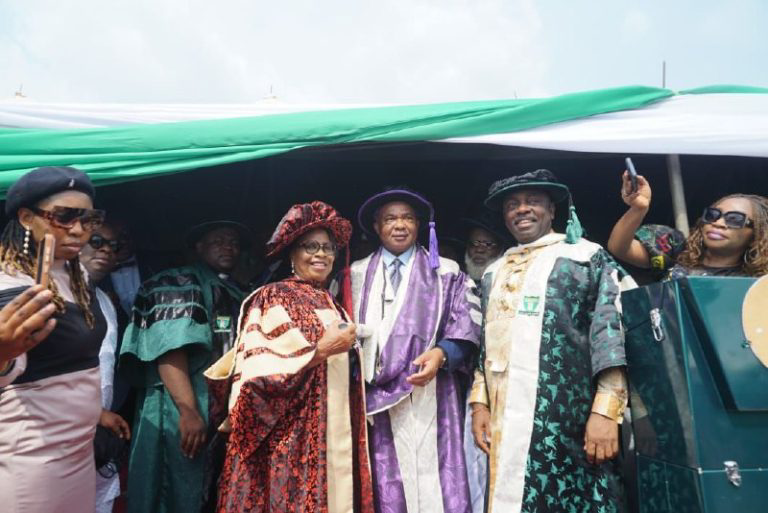 Other awardee at the event include, The CEO of the United Bank for Africa (UBA), chief Oliver Chukwudum Alawuba, former Anambra State Governor, Her Excellency, Dame (Dr) Virgy Etiaba, Engr. Simbi Kesiye Wabote, Oliver Chukwudum Alawuba.