Alleged Diversion Of $50,000 Campaign Funds By Victor Umeh Cheap Blackmail, Says Labour Party
Investigations have shown that the allegation of diversion of $50,000 campaign funds levelled against the Senator-elect for Anambra-Central, Sen. Victor Umeh, were not true.
Further findings revealed that Sen. Umeh has become the nightmare of opposition elements since the Independent National Electoral Commission (INEC) declared him the winner of the February 25th Anambra-Central senatorial elections where he humbled Uche Ekwunife of the Peoples Democratic Party, Ferdinand Dozie Nwankwo of the All Progressives Grand Alliance and a host of others.
A certain report which went viral on the social media had accused Sen. Umeh of having allegedly diverted $50,000 meant to support campaigns of Labour Party House of Assembly candidates in Anambra state.
The report alleged that the House of Assembly candidates at a certain meeting in a hotel in Awka, vowed to deal decisively with the Senator-elect over the alleged diversion.
But when contacted to ascertain the authenticity and veracity of such allegations, the Labour Party chairman in Anambra state, Hon. Emeh Ugochukwu Emmanuel, told our correspondent that such allegations were lies from the pit of hell.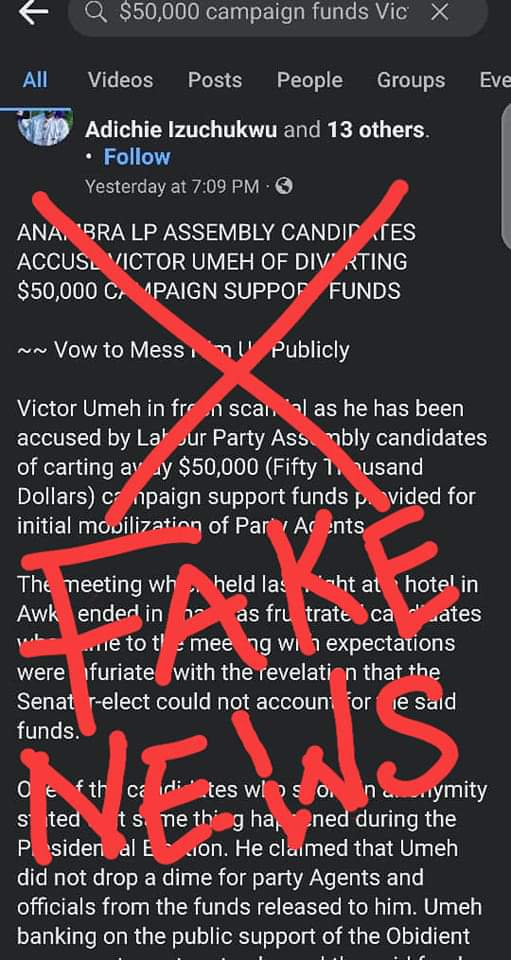 Emeh categorically stated that the House of Assembly candidates of Labour Party never held meeting anywhere in respect of any campaign funds. He said as the state party chairman, he was in a better position to discuss activities of the party in the state; that if anything of sort existed, he would definitely be in the know; but to the best of his knowledge, no $50,000 existed anywhere and no such thing ever happened in the party.
He said, "There is nothing like that. I don't know of any meeting of such. I don't even know of any money given to Victor Umeh; by who? Victor Umeh was a candidate and now a Senator-elect. I am not aware of any money given to him."
Also, a chieftain of the party in Anambra state, Engr. Charles Obi, told our correspondent that such allegations were unfounded as well as a cheap blackmail from those he described as disgruntled elements. Obi said on the contrary, Sen. Umeh has been supporting Labour Party House of Assembly candidates with his personal money and that sooner or later, he would convene a meeting with them regarding the March 18th House of Assembly elections.
The Labour Party chieftain stressed that the party does not have a sitting governor or president at the moment. So, how would they have raised such money or did the House of Assembly candidates contribute the money and handed over to Sen. Umeh? Or was it Mr. Peter Obi who was a candidate in the presidential election? He said such allegation was laughable!
Henry Chidimma Mbachu, the House of Assembly candidate of the Labour Party for Awka-South one state constituency, said he was not aware of such money and the candidates never held any meeting where Sen. Victor Umeh was the agenda.
Mbachu said, "I am not aware of such and I'm just hearing it from you for the first time. I was not invited to any meeting and I did not attend any meeting where House of Assembly candidates of Labour Party discussed such matter."
By Raymond Ozoji, Awka