Isizoh becomes first Catholic Bishop of Aguleri
There was jubilation on Friday in the entire Omambala area of Anambra State as the Auxiliary Bishop of Onitsha Archdiocese, Most Reverend Denis Isizoh was enthroned the first Bishop of the Catholic Diocese of Aguleri.
The event, which took place at St Joseph's Cathedral, Aguleri, attracted people from within and outside Nigeria, including Bishops and Archbishops, as well as government officials.
The newly erected Catholic Diocese of Aguleri comprises four local government areas namely, Anambra West, Anambra East, Oyi and Ayamelum.
The Aguleri World Forum (AWF), an umbrella body of Aguleri people within and outside Nigeria, described the event as historic, assuring that the new local ordinary will receive cooperation from all and sundry.
Wishing the Bishop a smooth administration of the Diocese, the forum said: "AWF celebrates with the Catholic Church in Aguleri on the historic erection of the Catholic Diocese of Aguleri (Nigeria) and the appointment of the first Bishop of Catholic Diocese of Aguleri, His Lordship, Bishop Denis Chidi Isizoh, by the Holy Father, His Holiness, Pope Francis.
"AWF and all Aguleri people express their profound gratitude to the Holy Father and the Catholic Church, for finding it worthy to host the highest body of the Church of Jesus Christ.
"By the erection of the new Catholic Diocese, Aguleri will forever pray for the Holy Father, Pope Francis. Aguleri will pray and be in the profound gratitude of His Grace Archbishop Valerian Okeke, the Archbishop of the Metropolitan Onitsha Ecclesiastical Province, the mother church of the Catholic Diocese of Aguleri, for allowing and shepherding the erection of the Catholic Diocese of Aguleri.
"We will not forget Aguleri figures who for years have worked for a day like this namely, His Excellency, Chief Dr. Willie Obiano, the former governor of Anambra State and many others who are no longer with us.
"Bishop Isizoh is from Ogbunike in Oyi local government area of the state, a town in the same old Anambra Division as Aguleri and it is also a great honor for the first Bishop of the Catholic Diocese of Aguleri to be a son of the region, a Papal masterstroke or Godly ordination.
"This Diocese brings together the old family, in the Old Anambra Division, a region known as the breadbasket of Anambra State, renown for their great culture and rich history, and one which in recent years, had witnessed much peace and development.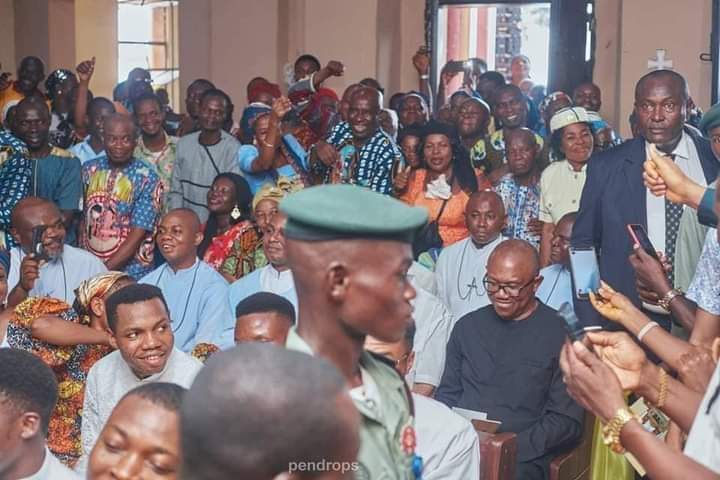 "That the seat of the Catholic Diocese of Aguleri is in the Ancient City of Aguleri, considered the cradle of the Igbo race, is quite befitting.
"All parts of old Anambra Division should take ownership of this historic Erection of the Catholic Diocese of Aguleri, as it belongs to all of us, just like the anticipated canonization of Blessed Iwene Tansi, God willing, will be."
"Our region is also set to witness great growth and development which we deserve. With the proposed Aguleri University of Education, in the future, and Anambra State recognition as an oil producing state following the effort of former Gov. Obiano and continued work from Gov. Soludo, Aguleri is one of the host communities of that oil and natural gas that will power the future growth and development of Anambra State."
About Author