We'll Challenge Our Results Mistakenly Given To Other Parties- Soludo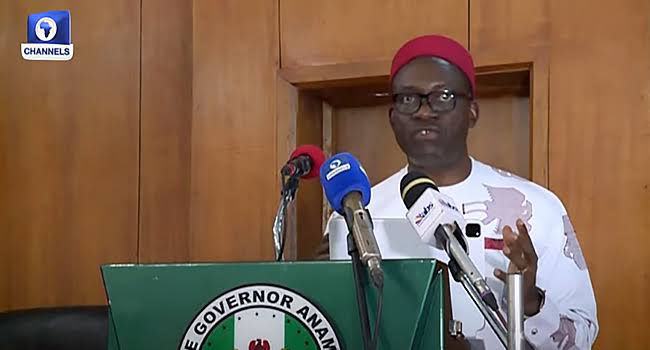 Governor Chukwuma Soludo of Anambra State has alleged that some state constituencies won by his party in Saturday's State Assembly election were mistakenly given to candidates of opposition political parties in the state, ANAMBRA PEOPLE reports.
Governor Soludo of the All Progressives Grand Alliance (APGA), made the allegation in his post-election statement.
The governor said that winners of the election have been declared, but his political party will take all necessary legal steps to challenge several of the results "mistakenly" given to other parties.
"We thank millions of Nigerians who voted for candidates of the All Progressives Grand Alliance (APGA) across the entire country. We have made modest gains by winning seats at the Senate, House of Representatives and State Assemblies across the country," he said.
He continued, "As we reform and strengthen our party, we will continue to present our social-progressive agenda as the roadmap for the country. As true believers in the potential of Nigeria, our party will continue to network and collaborate with all like-minded Nigerians and groups to advance the greatness of this country.
"Despite the heat of the moment, the sophisticated Anambra electorate still delivered an emphatic vote of confidence on us and our party-APGA with an absolute majority in the Anambra State House of Assembly. We will never take your support for granted, and will continue to work every minute of the day to justify your confidence on us.
"So far, winners have been declared, and those who are dissatisfied with the results have their rights to pursue their grievances through the due process of the law. My own political party, the All Progressives Grand Alliance, APGA, might challenge several of the results in pursuit of justice.
"While we will take all necessary legal steps to recover the seats we believe that APGA won, especially in Anambra state but were mistakenly called for other parties, we also know that several of the announced 'winners' from other parties are 'APGA-nized' and are patriotic citizens of the State.
"We, therefore, expect a progressive House of Assembly that will partner with us to continue the transformation agenda. I hereby extend my hands of fellowship to the elected members of the State and National Assemblies from other political parties in Anambra State: let us work together for the greatness of our dear state. Elections and partisan politics are over, and we should all now focus 100% of our time on delivering good governance to our people."