Archbishop Commissions ultra-modern specialist hospital in Anambra State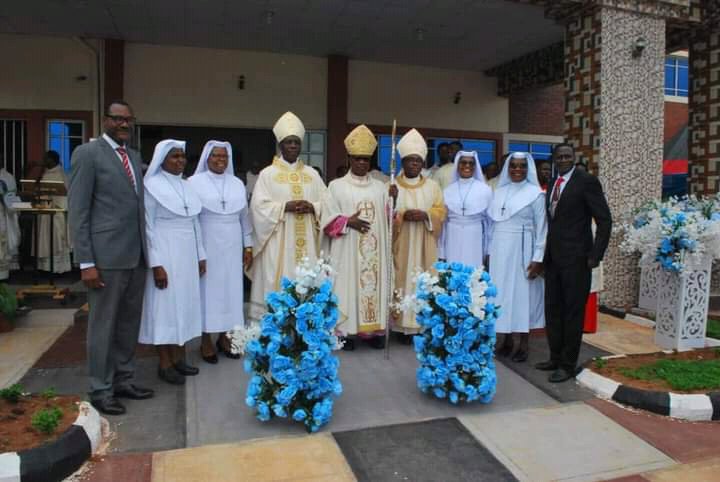 The Metropolitan Archbishop of Onitsha, Most Reverend Valerian Okeke has commissioned an ultra-modern specialist hospital, erected by the Reverend Sisters of the Immaculate Heart of Mary, IHM, at Nkpor near Onitsha on Tuesday, in Anambra State, ANAMBRA PEOPLE reports.
The Archbishop who celebrated a mass with the Bishop of Orlu diocese, Most Rev Augustine Ukwuoma, the Bishop of Aguleri diocese, Rev Denis Isizoh and a host of other priests commissioned the massive hospital complex with 15 different buildings equipped with state-of-the-art gadgets that meet international standards.
In his homily, the Archbishop anchored his message on the need for the hospital management and staff to render service of excellence, empathy and sympathy to the patients. According to the Archbishop, excellence should be a lifestyle and something of value and joy. "The way you attend to patients matter a lot. Listening to the patient with empathy is very important in the healing process". According to the Archbishop, anyone who beats, or harasses a patient is not fit for hospital work.
He commended the Superior General of Sisters of Immaculate Heart of Mary (IHM) Mother General Mary Claude Oguh and her management team for successfully executing and completing the hospital project adding that the hospital will make progress if it meets the expectation of the people. He spoke eloquently on the commitment and achievements of Mother Oguh since her leadership as the Superior General.
In her address, the Superior General of Sisters of Immaculate Heart of Mary, IHM, Mother General Mary Claude Oguh while welcoming the guests, said it was an occasion of thanksgiving to God for His marvellous works. She expressed gratitude to Archbishop Valerian Okeke for his fatherly role to the Congregation and his esteemed presence on the occasion to commission the project. Others who spoke and commended the IHM sisters for the project include ex-governor Peter Obi, and Dr ABC Orjiakor who was the chairman on the occasion among others.
The Chief Executive Officer, CEO, of the hospital, Sr Nkiruka Okafor in a remark, said the hospital project was part of the promotion of the healing ministry of Jesus Christ. The fully functional sections of the hospital are the eye centre, X-ray Centre, C T Scan and mammogram. Others are, the Accident and Emergency, maternity, pharmacy and general outpatient departments. The highlight of the occasion was the presentation of awards of excellence to the Archbishop,ex-governor Peter Obi, Dr ABC Orjiakor and many other guests and staff of the hospital.
About Author