Soludo/Uzodimma Join Forces As Vasity Students Flee Uli Town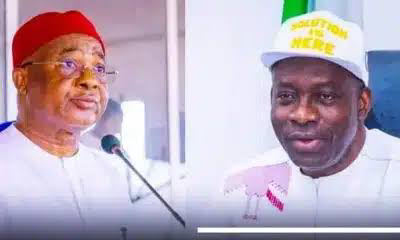 A planned military air raid by the Nigerian Army over the killing of colleagues by the unknown gunmen was averted twice in the Uli community in the Ihiala Local Government area of Anambra State following the intervention of Dr ABC Ojiakor a major sponsor of the war against insecurity in the area, ANAMBRA PEOPLE reports.
This is coming as students of Chukwuemeka Odimegwu Ojukwu University Students on the Uli campus are fleeing the area due to the deadly activities of the gunmen.
However, Gov Charles Soludo in a bid to stem the avalanche of security threats in the town has established a Military Base in the town while Imo state governor Sen Hope Uzodimma has commenced border operations to give backing to the fight against unknown gunmen at the boundary of the two states.
According to Dr ABC Ojiakor who spoke at the Uli Peace and Security Summit ;
"Following the attacks on soldiers and other uniformed officers and men in our town, the soldiers had concluded arrangements for what looks like the military bombing of the hideouts of these gunmen in our town on two occasions"
"It is worrisome and frustrating that each time a Uli son is arrested I am called to help secure the release of those boys and the military commander would tell me that this is an act of respect for me and the leaders of the community if not they would have carried out a sustained military raid on my community and two occasions the soldiers had planned to carry out this operation"
"At some point, I had to speak with Gov Charles Soludo and Sen Hope Uzodimma of Imo state to intervene in this situation and that however led to the establishment of a Military Base in our town Uli which has to a great extent put the activities of these criminals on check"
"The governor of our sister state Imo Sen Hope Uzodimma as promised has commenced sustained border operations against these miscreants who are on the other side which had also resulted in the success story that we have at the moment," he said.
Continuing Ojiakor noted that the Uli community is not ready to give money to anyone who claims to be a gunman in the bush contending that if any of them comes out to denounce his status and hand over his weapon he would be given amnesty.
"We are not prepared to negotiate with criminals or these terrorists because if you do so you are empowering them and their members in other towns would come here to demand money and our people will not do that
"We would also confirm if the person in question has indeed changed his ways and this is the duty of the leaders of the four quarters of the community to confirm," he said
Deputy Vice Chancellor of Chukwuemeka Odimegwu Ojukwu University Prof Osita Chiawunamuoke at the meeting confirmed the fleeing of students out of the town demanding a change of course and campus to the Igbariam to study Agriculture as against their preferred discipline.
"Parents have been coming asking us to transfer their children to our Igbariam campus and they have chosen to study Agriculture, a course that most students don't want to study"
"We had our matriculation recently and both the students and their parents don't want to study in Uli campus but they want to go to Igbariam where they can be safe and this is as a result of the activities of these people in the community"
"Even a daughter of this community who works at the security department of the university came to me last time crying and told me that their family house has been burnt down by gunmen at that she wants a transfer to Awka and I have transferred her but she now pays N250, 000 as house rent but before the incident she goes to work from her family house "
"We lectures before now would stay till late in the evening enjoying ourselves at any of the relaxation centers but today once it is 4 pm everyone would take off to another town due to insecurity and the economy of the Uli community as a result of that has continued to go down"
"But with the establishment of the Military Base in Uli by Gov Charles Soludo things appears to be taking shape and this security summit that took place today is a step in the right direction," he said.
According to the resolution at the end of the summit, the community said that it would commence a census of those killed as well as buildings burnt and those who cannot be found.
"Quarter Unions, the council of Chiefs would provide statistics of all the properties destroyed in their quarters, list of missing persons or killed or in detention from their quarters with pictorial evidence and proposals on granting pardon to those who are willing to drop their arms and embrace peace"
"All these must be documented and each group will choose those that shall speak for them up to a maximum of three persons as well as delivering of resolutions and communique including the provision of mitigation means such as amnesty and conditions for such " it read in parts.