Billionaire Oil Mogul Arthur Eze Rocks 'N10m' Suit and Tie to Commission Flyover in Ebonyi (Photos)
Governor David Nweze Umahi has been described as a saviour sent from God to change the face of Ebonyi State.
Business mogul, Prince Arthur Eze made the statement while commissioning an 18 span flyover at Abaomege junction Onicha Local Government Area named after him,Tuesday, ANAMBRA PEOPLE reports .
Also commissioned by Prince Arthur Eze was the Abaomege -Ukawu-Ugwulangwu-Okposi road.
Prince Eze while appreciatng Governor Umahi for immortalizing him through the Flyover, applauded him for massive infrastructural transformation of the State.
"Our people suffered so much some years ago when they were talking about State creation.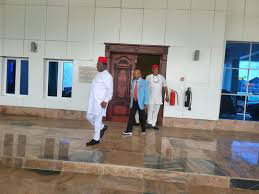 "God brought this man, a saviour and he has changed the face of Ebonyi State, I could not recognize Abakaliki again, God gave him the vision, one day he will become the President of this Country."
Earlier, Governor Umahi thanked Prince Arthur Eze for being a succour to all manner of persons over the years.
He appealled to him to make himself a rallying point for Ndigbo in the forthcoming Presidency of Ahmed Bola Tinubu.
"I am using the opportunity to beg you to be the face of Ndigbo in Tinubu's administration, if you put yourself forward, the Igbo man will not be neglected.
"You have raised a lot of people, I have never seen any man that has outperformed you in this regard."
"History is made today, I think it should be three years back when we invited Arthur Eze to lay the foundation of this Flyover. For so many reasons, one he was very key to our struggle.
"He took me in his vehicle to the Villa to meet President Goodluck Jonathan and he said this is the man that will be the Governor of Ebonyi State and Mr. President ticked my name.
"The history of the development of Ebonyi State will not be complete without mentioning Arthur Eze."
The Governor called on people especially, the younger generation, to learn to show gratitude for any good action and abstain from paying back evil for good.
"Anybody that has helped you in life, we should continue to appreciate them and that is why we named this flyover bridge, Engineer Prince Arthur Eze flyover.
"A man that has made so many politicians, he gives money in millions of dollars and he doesn't ask you to pay him back."
The Commissioner for Works and Transport, Engr. Ogbonnaya Obasi Abara said the Prince Arthur Eze Flyover became necessary to ease crossborder movement of trucks between Cross River and Ebonyi States.
Prince Arthur Eze arrived Ebonyi State with his Private Jet Boeing 5N-PZE via the Ebonyi International Airport, Onueke at noon.