26 Legacy Projects in Anambra State (Pictures)
Anambra is one of the fastest developing states in Nigeria with multiple cities. Though infrastructure wise, the state is lagging behind compared to places like Lagos, Abuja, Port Harcourt. Lately, the state has started recording visible infrastructural development commensurate with its status and majority of these infrastructures are purely private efforts which are adding beauty and value to the state, most of them have great job creation potentials and can triple IGR of the state when properly harnessed. These are the list of some of these projects according ANAMBRA PEOPLE;
OBIJACKSON CHILDREN HOSPITAL: was conceptualized to be one of the world's foremost pediatric health-care institutions. It is the first kind of women and pediatric tertiary care hospital in the Eastern region of Nigeria. Obijackson Children's Hospital is a sterling example of philanthropic endeavors of the Obijackson Group, one of the fastest growing business conglomerates in Sub Saharan Africa.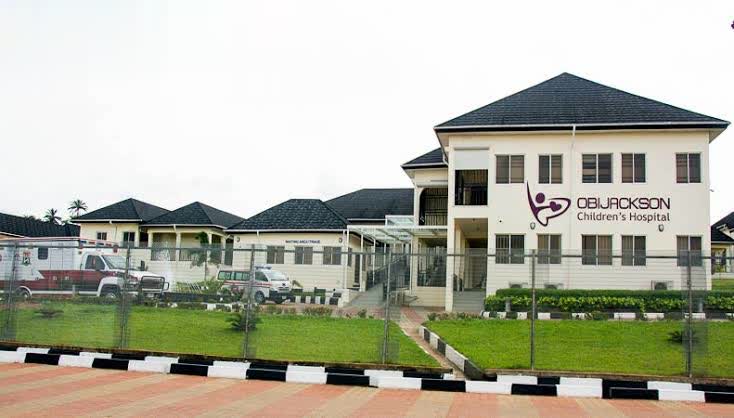 INTAFACT BREWERIES: the plant now bears International Breweries Plc, (Onitsha Plant) a new name adopted by ABInBev after their acquisition of the former parent company, SABMiller. The Onitsha plant prides itself as the home of the widely cherished brand, Hero Lager Beer. It is also the first ABI plant in Africa to get right the brewing standard and clearance for brewing the legendary beer, Budweiser (The King of Beers). The plant has in its employ more than 1,000 workers and receives over a thousand visitors monthly.
ANAMBRA AIRPORT: Anambra Airport is envisaged to be an international airport in Nigeria. It is situated at Umueri, Anambra State. On December 2, 2021, the Nigerian Civil Aviation Authority issued the Anambra State Government the authority to open the airport for commercial operations, after which the airport began commercial operations on December 7, 2021. In its first month of operations it had recorded 142 flights carrying a total of 3,865 passengers. The cargo section when functional would boost business for traders in the South East.
ONITSHA RIVER PORT: will go down in history as one of the most ambitious projects in Anambra in the 21st century. When fully functional, there is no project that would boost massive economic activities in the state than the project. It was built to serve as an alternative source of transporting goods to the South East from Lagos, Port Harcourt and other areas with adequate water connectivity. The port is one of the 4 inland ports in the country with others situated in Lokoja, Kogi State; Baro in Niger State and Oguta in Imo State. It is projected to generate over N23 billion to the federal government in 30 years.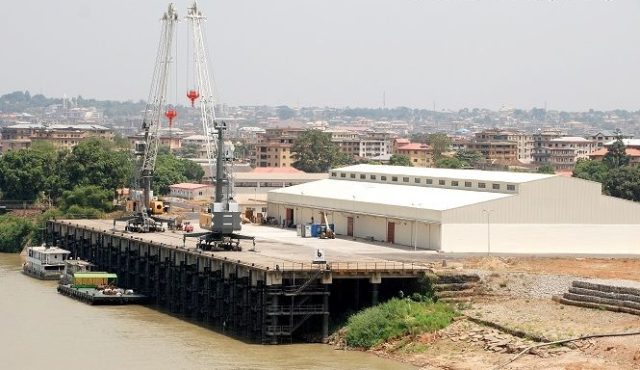 ALL SAINTS CATHEDRAL: Its unique architectural design and its huge size combine to make it an edifice of the Church of Nigeria, Anglican Communion. Currently the headquarters of the Diocese on the Niger of the Communion, it was at some point, the seat of the Archbishop of West Africa of the Church of England. The foundation stone was laid on 9th November, 1949 by his Excellency, Sir John Stewart Macpherson, Governor-General of Nigeria. It plays host to a lot of religious events in the Anglican Communion like synod, priestly ordination, bishop and archbishop consecration, national and international religious events.
BASILICA OF THE MOST HOLY TRINITY: This Roman Catholic cathedral and basilica is seat of the Archdiocese of Onitsha. Built between 1930 and 1935, Holy Trinity cathedral was elevated and promoted to a minor Basilica by Pope Benedict XVI on May 28, 2007. An indisputably unique treasure in the cathedral is the relics of Blessed Michael Cyprian Iwene Tansi who was beatified by Pope John Paul ll in 1998. The tombs of a number of pioneer Roman Catholic missionaries in Igboland such as Bishop Joseph Shanahan and Archbishop Charles Heerey are located in the basilica. It is a pilgrimage center and receives a lot of visitors from across the world yearly.
OBI OF ONITSHA PALACE: a cultural master piece and heritage center, the Obi's palace is one of the most valuable structures in Onitsha. Regarded as a cultural treasure, it is the venue of most major activities involving not only the monarch, but also the totality of ndi Onicha (Onitsha people). It is among the five major tourist centers within the city of Onitsha.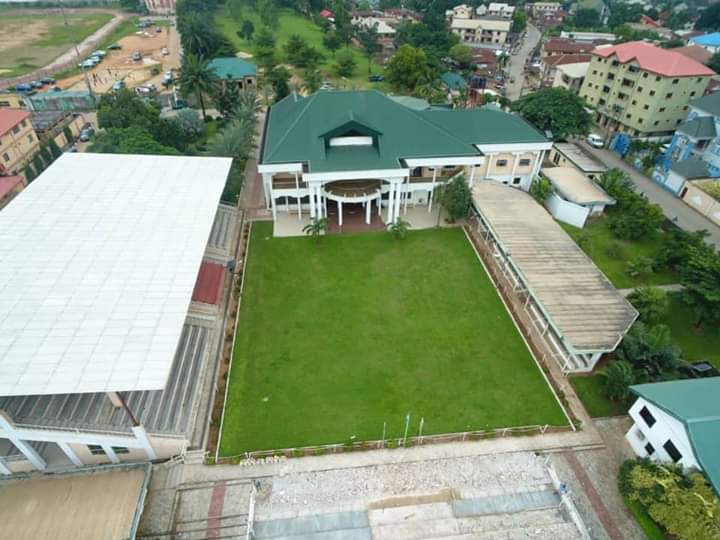 ZIK'S MAUSOLEUM: The Zik Mausoleum consists of the museum housing Zik's grave and an administrative unit on two floors. The administrative block is made up of a reception, offices, conference halls, VIP lounge, museum-cum-archives, video display room, research, library, documentation section and conveniences. The mausoleum is envisaged to be a cultural and research melting pot and will play host to a lot of national cultural events.
ONITSHA MALL: Onitsha Mall is Located on Park Road within Onitsha GRA, Anambra State, South-Eastern Nigeria. The Shopping Mall provides a modern one-stop shopping experience comparable to world-class standards, offering approximately 12,000sqm of retail and recreation. Apart from Onitsha main market, the Onitsha mall is the most visited shopping complex in Anambra state with over 5,000 daily visitors.
NKWELLE LUXURY PLACE ESTATE: is a state of the art, first of its kind luxury estate with modern facilities. The estate will have CCTV camera installations in all the street roads, police station, Hotel, Fire station, green area for relaxation, shopping mall, good road networks with well-designed drainage systems tastefully finished interiors for maximum comfort to subscribers. The houses come in four bedrooms Duplex with two boys' quarters and Five Bedroom Duplex with Two boy's quarters. It is envisaged to be a haven of comfort to occupants.
AWKA MILLENIUM CITY: Awka Millennium City Estate is a luxury estate located within the New Three-Arms Zone, Nnamdi Azikiwe Avenue, Off Old Enugu Road in Awka, the capital City of Anambra State. The features of this estate will perfectly suit any family, as local community, schools and business districts are well laid out. It boasts of recreational facilities that are second to none. Other international schools are within 6 mins drive from the estate.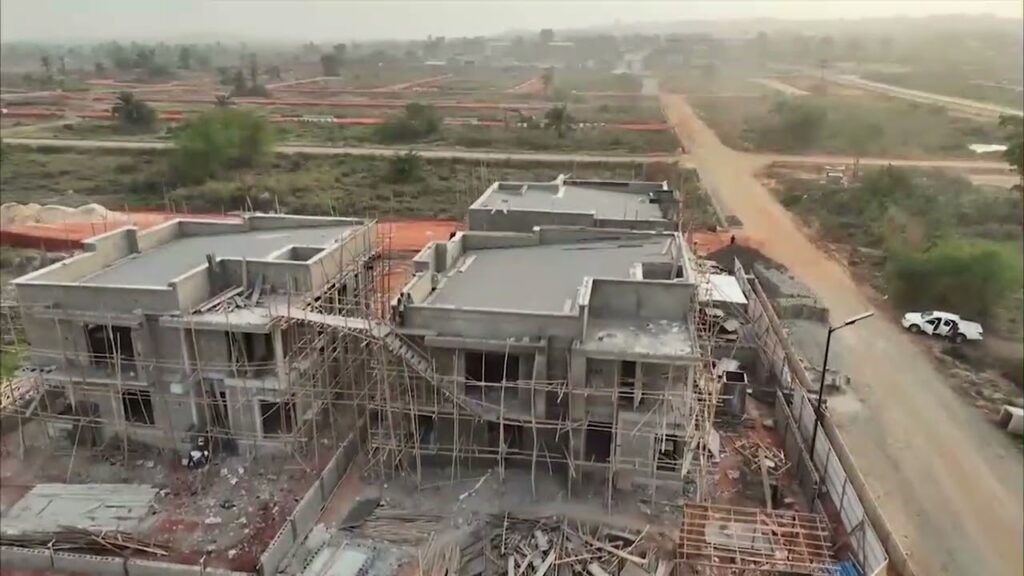 COSCHARIS RICE MILL: Coscharis Farms, strategically located at Anaku and Igbariam, is home to hygienically fertilized and cultured rice grains processed by in house bio-experts into 100% Sortexed long grain. The rice mill attracts more than 500 major rice buyers across the country monthly and employs over 1000 staff.
INNOSON MOTORS FACTORY: Innoson Vehicle Manufacturing Company (IVM) was commissioned by His Excellency, President Goodluck Ebele Jonathan at Nnewi. IVM is part of the Innoson Group of Companies. IVM introduces automotive products from China, Japan and Germany. Its product line includes heavy duty vehicles, middle and high level buses, special environment friendly vehicles. The factory receives government and investment delegation from countries around the world on monthly basis. Students from tertiary institutions also visit the factory to gain first-hand knowledge about vehicle manufacturing.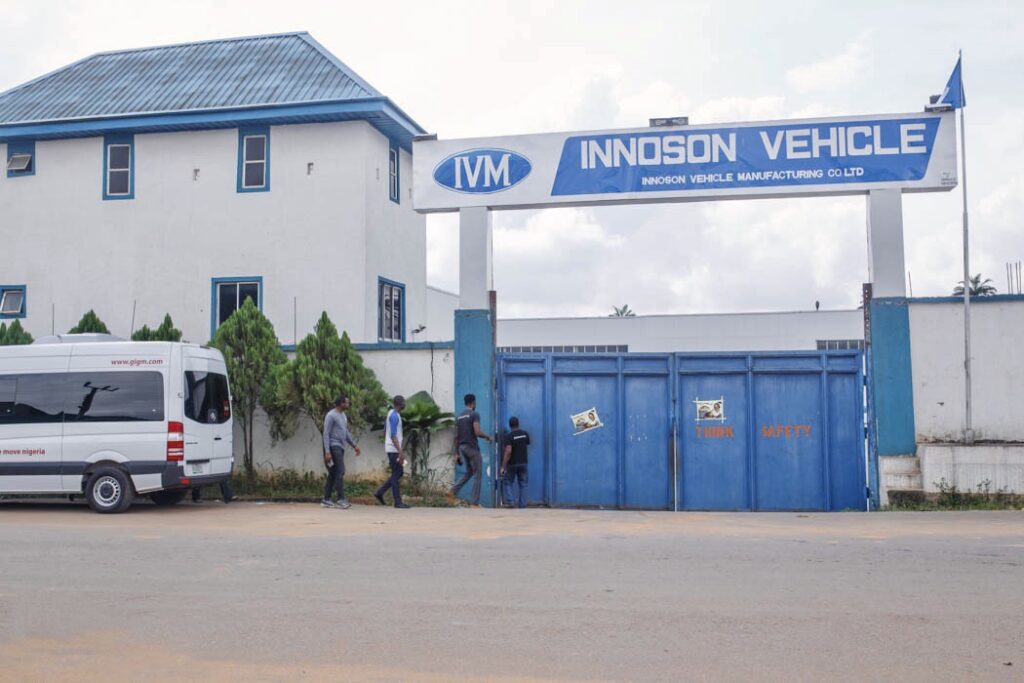 LIFE HOSPITAL, AWKA: is a full-service fertility hospital. The facilities in the hospital provides patients with the most advanced fertility and infertility technologies and tools available all under one roof. It is a very ambitious project in the health sector in Anambra and receives patients from all over the country. It is equally a boost to medical tourism in the state.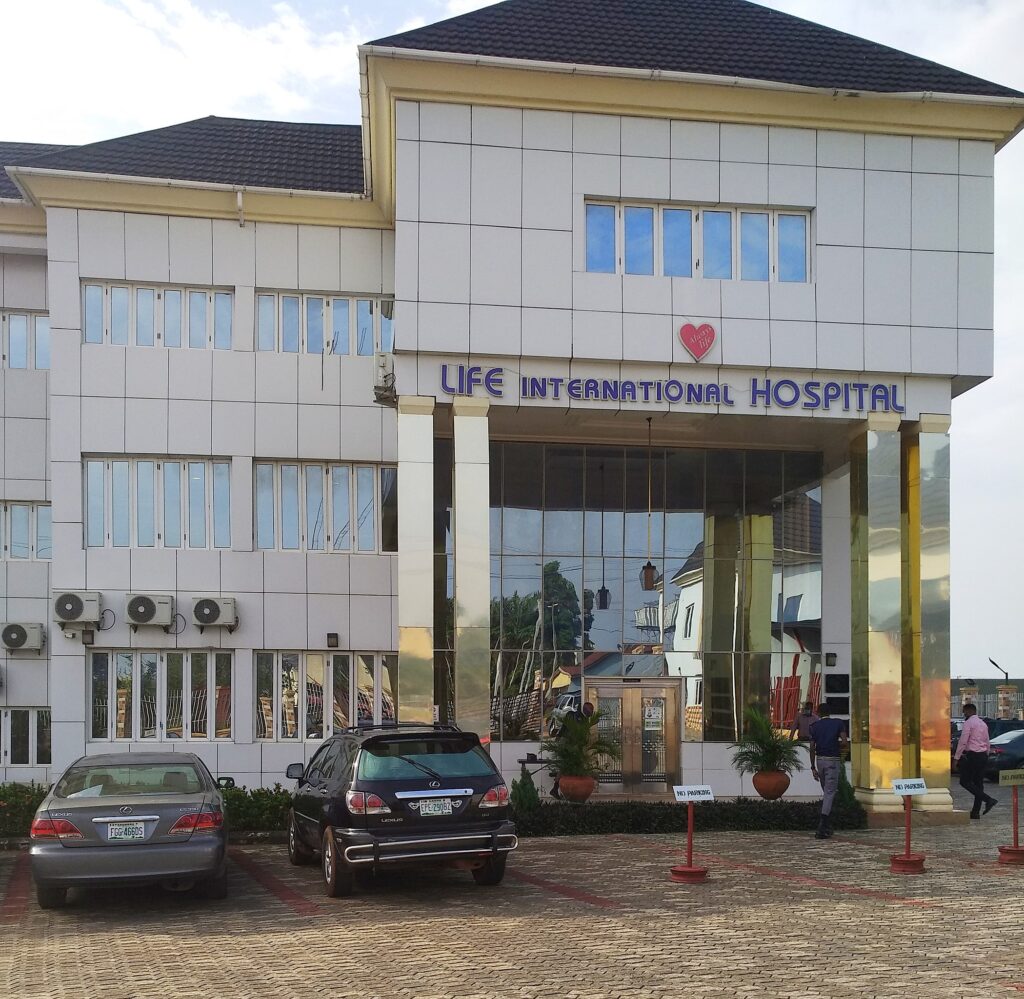 GOLDEN TULIP HOTELS: is the first international standard hotel in Anambra, a four-star hotel built around the banks of the famous Agulu Lake. Many international conferences and symposia have taken place at the hotel. Recently, the government of Anambra voted 4 billion naira for its rehabilitation and development of tourist centers around the lake. When fully developed, over 1000 are expected to be visiting the hotel on monthly basis.
ROJENNY TOURIST VILLAGE, OBA: Rojenny Holiday Village, a tourism resort in South-East Nigeria. It is located in Oba, Idemili South Local Government Area of Anambra State, on the outskirts of the commercial city of Onitsha, along Owerri-Onitsha Expressway, and occupies a long stretch of land estimated at 8 sq. km. The massive expanse of land, long stretch of trees, beautiful lawns, and gigantic structures dotting the length compound creates a serene getaway for fun and relaxation. There are many activities available from rides, swimming, sports and nature watch.
NIMEK PLAZA: popularly known as Emeka Offor Plaza due to the fact that it is owned by Oil Mogul/Politician Sir Emeka Offor. It is the most popular place at Onitsha Main Market and the tech/communication headquarters of the South East. The plaza houses 272 shops and can be easily located through the popular New Market Road Onitsha. This plaza has grown so much in activities that it has gone as far as swallowing adjourning plazas that most visitors to this vicinity do not know the name of the plazas. Emeka Offor Plaza is reputed to have over 2000 millionaires.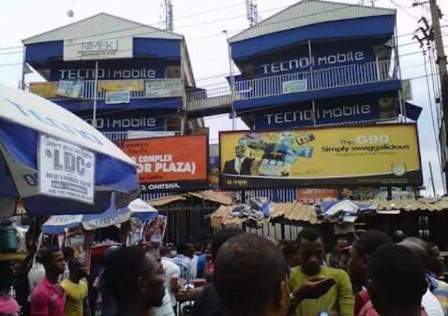 LOYOLA JESUIT SECONDARY SCHOOL, OKIJA: Loyola Jesuit College (LJC) is part of the worldwide family of Jesuit schools run by the Society of Jesus in Anambra, Nigeria in Africa. With them, it shares a common vision and philosophy derived from the writings of the founder of the Jesuits, St. Ignatius of Loyola. All Jesuit schools and their alumni are linked internationally, regionally and nationally and share development programs in common.
OBIJACKSON GOLF COURSE: Steve has designed a 9 hole golf course in south eastern Nigeria which is presently under construction. The course is being constructed on a sloping site through an old palm plantation with superb views over the surrounding countryside. The course has been routed to avoid removing any of the large existing trees on site and the sloping areas are shaped to divert the surface water in many directions and reduce erosion from the heavy rains in this area. Three small lakes are being constructed to contain water flowing through the course and add to the irrigation reserve and are topped up by deep boreholes. This is the second golf course Steve has designed and built in Nigeria.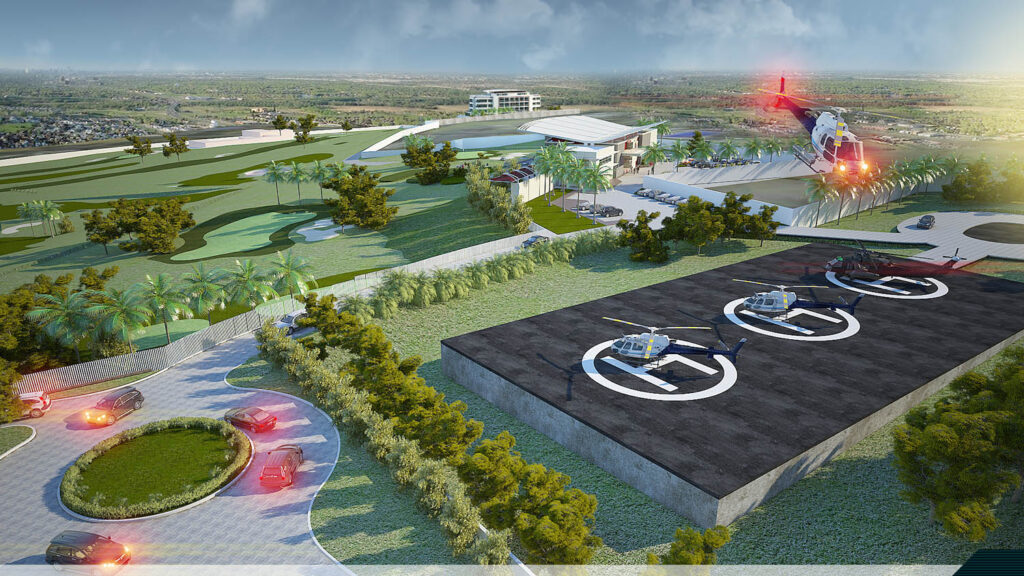 DAME IRENE MEMORIAL HOSPITAL: A world class Cardiology Facility that employs highly skilled medical experts in Cardiology and Nephrology. The hospital also carries out kidney transplant, dialysis and surgery on tumor. Among the facilities in the hospital are Digital Cath Lab, High Definition 128 Slides CT scan, Digital X-ray systems, Direct on Bed Oxygen Delivery, Automated Ventilators, ICU unit, state of the art theatres and Oxygen Producing Plant house.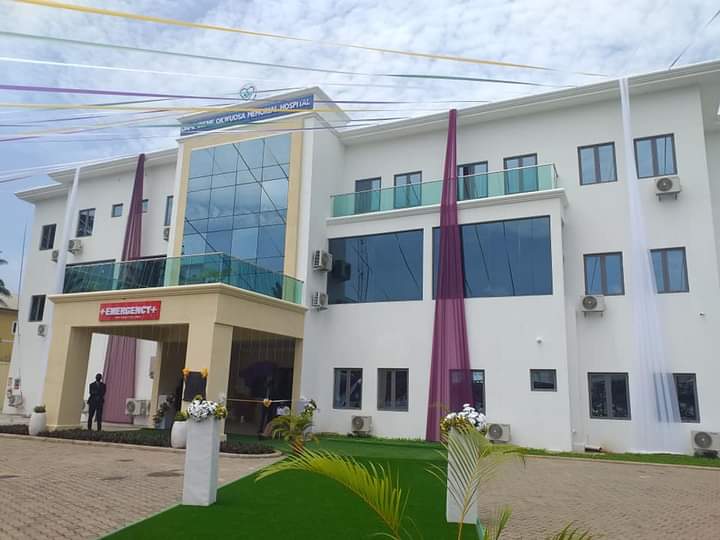 FEDERAL SECRETARIAT, AWKA: a Complex that will harbour many government ministries and agencies. The complex has about 480 offices and over 200 executive offices including the basement.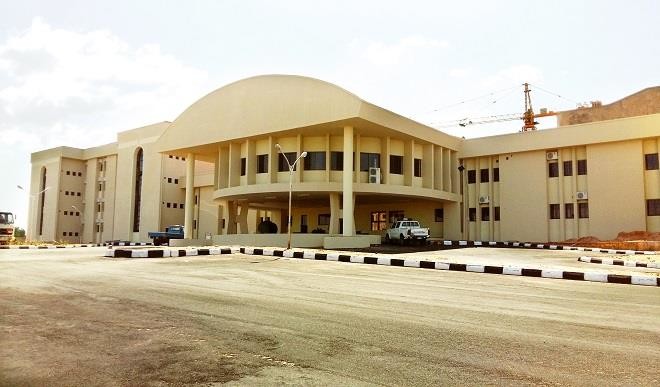 ACCUNLYASIS Diagnostics Center is a newly established state of the art facility located at Uruagu town Nnewi. Accunalysis aims at providing quality healthcare delivery in line with international best practices and envisage presence in 21 local government areas of Anambra state. With enhanced and constantly improving technology, this is a healthcare revolution.
IGBOUKWU MUSEUM: Igboukwu museum also called the Igbo museum is located in Ngo village, Igboukwu. The origin of this museum can be traced to 1939 when a man called Mr Isaiah Anozie found many buried artifacts whilst digging a cistern. This discovery attracted the late British Professor of Archealogy Thurstan Shaw who further excavated the land. Since then, the museum has continued to attract tourists and delegations from different parts of the world.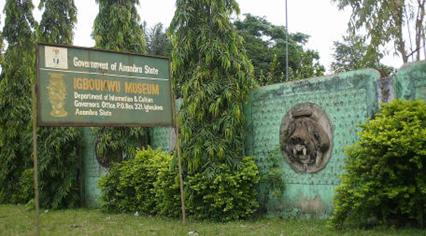 NEROS STADIUM: The NEROS Sports Stadium is one of the busiest stadia in the Country used for several tournaments, leagues, trainings, and also used by fitness clubs. The facility has also been preferred by many NPFL Clubs for their Pre-season tours due to its serene location. Top teams like Rangers Int'l, Heartland and Abia Warriors have all used the venue for their Pre-season closed campings. During major tournaments, the stadium has major impact on the hospitality industry, logistics industry, etc.
INTERNATIONAL RESEARCH CENTER, UMUCHUKWU: is an orthopedic hospital with state of the art facilities single handedly built by an American based medical doctor, Dr Godwin Maduka. The hospital when completed will be the best of its kind in Nigeria and West Africa in general, according to the World Health Organization.
SECOND NIGER BRIDGE: The Second Niger Bridge is a key national infrastructure, with immense socio-economic benefits for the state. Upon completion, the bridge will ease traffic flow, improve road safety, and create greater opportunities for local residents by advancing the commercial viability of the immediate area and regenerating economic life.