Anambra Polytechnic Gets Acting Rector 15 Years After Inception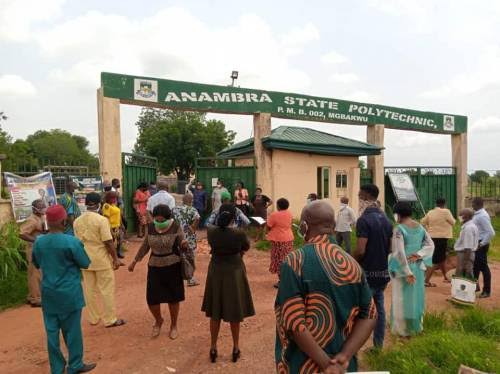 The commitment of the Professor Chukwuma Charles Soludo's administration towards the revitalization of education in Anambra state is currently yielding positive results especially as the state-owned polytechnic now has an acting Rector 15 years after inception, ANAMBRA PEOPLE reports.
The present administration has equally conducted what maybe described as an equitable recruitment exercise for qualified teachers to teach in Anambra schools and special considerations given to physically challenged persons who met the requisite requirements for employment as teachers. These teachers are to begin work in September this year.
These were disclosures from the Education Commissioner Prof. Ngozi Chuma-Udeh who granted a phone interview to our correspondent.
She said the current state government inherited a polytechnic without a Rector and that the school has been in existence for the past 15 years operating without the necessary paraphernalia and infrastructure befitting for its status.
The Commissioner said, " We have an acting Rector there, waiting for the appointment of a substantive Rector. That is what every institution does and that is what it should be. When the Rector is not there, then you appoint an acting Rector.
Choosing a Rector is not a thing you just do; otherwise you jeopardize the institution the more. So we are taking our time to appoint a new one but there is an acting Rector there. Even I have the letter I wrote to the person. So we have an acting Rector there.
The government is doing everything possible to make sure that the institution thrives. Meanwhile this government is a new government. So the problem did not start with this government. This government inherited a lot of problems and that is what we are tackling gradually.
There is a lot of problem in the institution and we are trying to redefine it. It can not be solved over night because it did not happen over night. The problem of that institution did not happen over night. It is something that started almost 15 years ago. So it is not something I am going to tell you we will remedy right now. If I say that, then I am not realistic. But we are working assiduously towards realigning the institution but the institution represents a very salient point in the education of our children in Anambra. So we are concerned towards it.
The children not going for National Youth Service scheme did not start today. This government was not there when the children went to school but this government just came in to witness their problems. We did not create the problems but we are going to solve the problems.
The Governor was sworn-in barely six months ago and we are trying to make sure that everything goes well in Anambra state. But we are not going to do all of it over night. We solicit support and prayers of Ndi-Anambra for the administration to move forward. The problem of the institution has been existing before this government came on board. We will gradually and meticulously and systematically pray to solve the problems the much we could. "
The Commissioner also tasked the Provost of Nwafor Orizu College of Education to be innovative in the running of the institution and not depend solely on subventions. It would be recalled that the Provost had during budget defence at the House of Assembly stated that school fees from students were not enough to run the state-owned college of education.
Prof. Chuma-Udeh said, " Projects are attracted to institutions by heads of institutions. We have the TET fund and some other arms supporting and funding education. So it behoves on the head of the institution to move to attract these facilities to the school and not sit in one place waiting for subventions.
As the Education Commissioner, I have been running around looking for people to adopt schools; looking for loans and grants to improve the quality of education of our children. It is not for her to lie down and wait for government intervention. We make people the heads of institutions for them to make some moves; seek for grants, aids and collaborations.
The government is doing its best but it behoves on the head of the institution to advertise her institution and have enough students. The government can not do that for the head of the institution. There are so many ways of bringing progress to institutions. The institution should also look inwards for IGR. We make people heads of institutions to move them forward and not lying down waiting for increase in subventions."