By Izunna Okafor, Awka
The National Federation of Catholic Students (NFCS), Nnamdi Azikiwe University Chapter, has today, installed the embattled Managing Director/CEO of the Awka Capital Territory Development Authority (ACTDA), Mr Ossy Onuko,as the first ever Patron of the association.
This is coming in the wake of accusations of ordering the brutalization of GUO driver in Awka, Anambra State.
The event, which held in Awka, the State capital also featured presentation of Award of Appreciation to Mr. Onuko by the students.
Speaking at the event, the President of NFCS UNIZIK, Mr. Abimaja Christian, said the installation and the award were in recognition of Mr. Onuko's unwavering support to the association and the Catholic Church community at large, which, he said resonates with their core values.
He also described Mr. Onuko as a philanthropist, whose humanitarian gestures and his tireless efforts at ACTDA to help Governor Chukwuma Soludo accomplish his dream for Awka, have not gone unnoticed; hence their unanimous decision to recognize and appreciate him.
Also speaking, the Chaplain of the association, Rev. Fr. Remgius Ezeokonkwo, reiterated Mr. Onuko's remarkable achievements in his role at ACTDA and his support to the Catholic community align with their principles of service, integrity, and social responsibility.
According to him, Onuko, a vibrant youth and Catholic faithful, stands as a shining example for the Catholic student community, which he said, made them bring him closer to the association, with a strong belief that his wisdom will illuminate their path toward making meaningful contributions to society.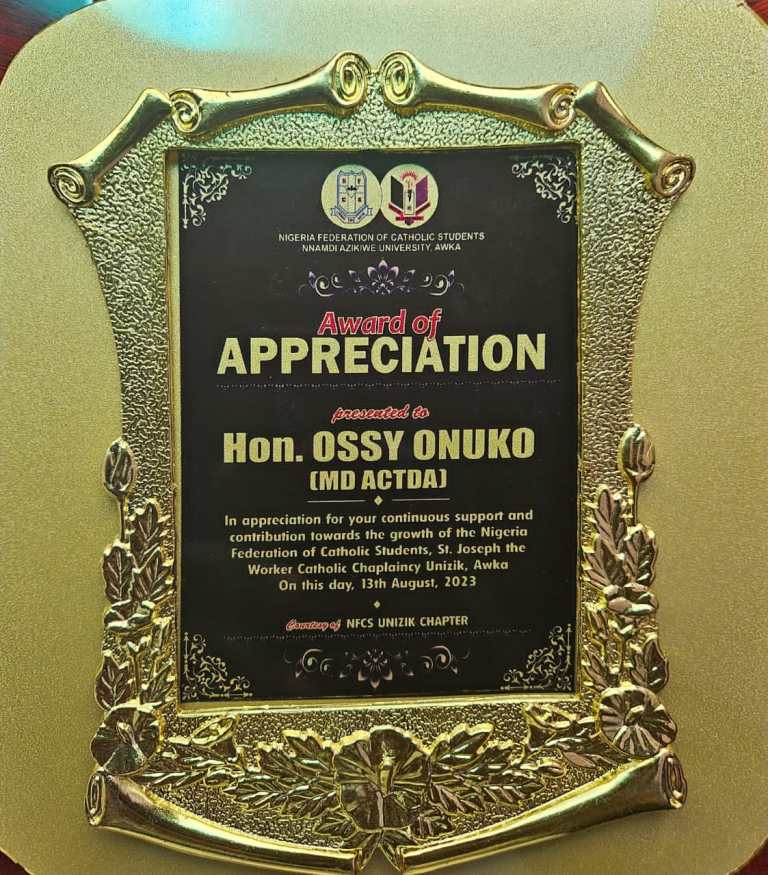 In his brief remarks shortly after receiving the award, Mr. Onuko expressed his heartfelt appreciation to the association for deeming him worthy of such recognition and honourable position, while also advising the students to remain focused, take their studies serious, and aspire to be the best in every facet of their life.
The ACTDA MD, who reminded the students that the state government has awarded the dilapidated road that that leads to their school (the Ifite—UNIZIK—Amansea Road), also highlighted some ongoing projects and significant accomplishments so made under the leadership of Governor Soludo towards giving Awka a befitting look of a capital city.
While reassuring of his unreserved support to the association and the Catholic community, Mr. Onuko further urged the students and the church leadership to continue supporting and rallying behind the development initiatives of Governor Soludo, as, according to him, their collective support could play a very pivotal role in furthering the realization of the Governor's vision of making Anambra a liveable and prosperous homeland.
Accompanied by the students, the ACTDA Boss, thereafter, heartily danced to the altar in appreciation to God for his successful one year so far in office as the MD/CEO of the Awka Capital Territory Development Authority.
This reporter, Izunna Okafor, gathered that Mr. Onuko is the first person to be ever installed as the Patron of the NFCS, UNIZIK Chapter.
About Author