To commemorate the International Day for Women and Girls in Science, Stemnovo NG in collaboration with WHAIAfrica, NAWORG and YALI RLC southeast have organized the Girls in Science Assembly 1.0, a symposium and STEM workshop on coding and robotics for girls in secondary schools.
The event which was held on Friday, 11th February, 2022 at Mater Amabilis Secondary School, Umuoji was aimed at encouraging more girls' participation in science & tech. It also has as part of its cardinal objectives the vision to celebrate women who are already doing wonders in the field and project them as icons for these young ones while exposing the students to various skills in coding and robotics. It had over 50 female students from different schools in attendance.
The well attended programme which started with a panel of discussion by stakeholders on the theme "Women And Girls: Agents Of Change" critically analyzed the position of women in Tech, current and future trends and how to bridge the gender gap in the STEM field and had the panelists inspire the girls with their story. The Panelists were the Director of Programs at Stemnovo NG, Kyrian Obikwelu, the Executive Director at WHAIAfrica, Nkechi Udegboka, Pharm. Chisom Uchem from NAWORG and Mr Chinedu Nzubechukwu from YALI RLC South-east while the CEO of Stemnovo NG, Mr John Onuigbo moderated the session.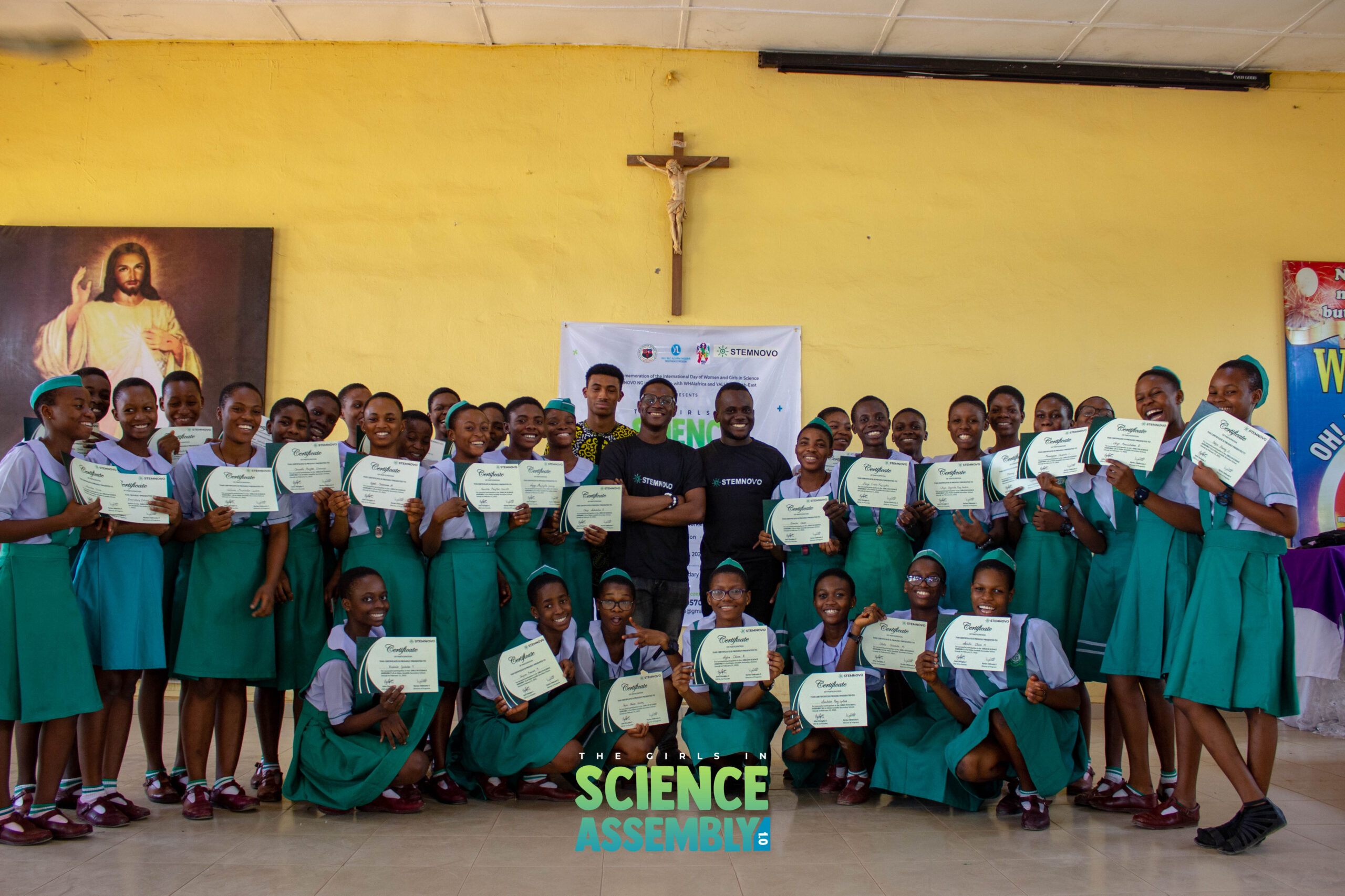 The climax of the event was the break-out session where the girls, some of them, for the first time in their lives, got empowered with digital skills via the Hour of Code and robotics training session hosted by Stemnovo NG. The girls programmed apps, built high-tech products which they exhibited at the end of the day.
The occasion also witnessed a science competition that had Orji Chidimma, Nwanekezie Chinaza of Mater Amabilis Secondary School Umuoji and Onyema Winner from Supreme knowledge comprehensive schools Nkpor win first, second and third prizes respectively.
Speaking to the media, the CEO of Stemnovo NG, John Onuigbo, reiterated that one of the goals of the company was the need to help in bridging gender gaps in STEM by providing hands-on STEM training and mentorship while encouraging girls to dominate in the fields of science and technology, traditionally considered a male field. He assured that the Girls in Science Assembly would become an annual event.
About 50 girls got certified at the end of the day, leaving the hall with bright smiles, inspired to take over the male-dominated STEM field.
About Author