Unveiling The Anambra State Joint Enforcement Team – ANJET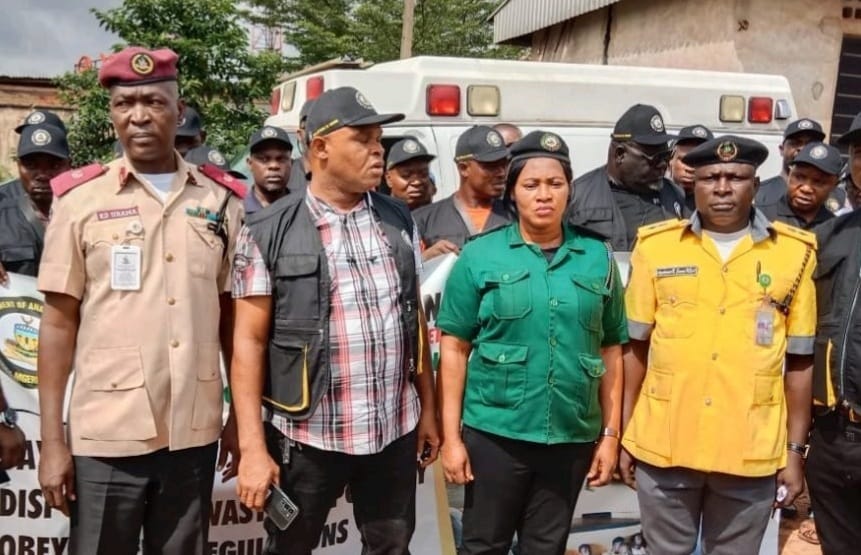 In an effort to stem government's fund leakages from unremitted taxes collected by unscrupulous agents and touts Gov. Soludo introduced direct e-payment model wherein taxes to the State Government are expected to be paid directly to government account. Taxpayers in the unorganised sector were granted few months moratorium to enable them fully understand and key into the novel order.
Anambra State Internal Revenue Service, AIRS, has, through the electronic and print media, adequately explained Gov. Soludo's tax policies for people's understanding.
To give muscles to the policy, Mr. Governor created an enforcement outfit, Anambra State Joint Enforcement Team, ANJET, charged with the responsibilities of supervising, monitoring and enforcing compliance to the payment of taxes in the state. To underscore the premium the governor places on compliance with the tax payment is his choice of Air Vice Marshall Ben Chiobi (rtd) his Special Adviser on Security Matters, as the State Coordinator of ANJET. This responsibility on the AVM demands him to ensure that the state fully enjoys tax proceeds from the huge commercial activities that go on in the state by ensuring that all lapses or leakages of the IGR windows are completely blocked and evaders of taxes as well as illegal tax collectors in the state be made to face the wrath of the law via the mobile court that has the responsibility of trying tax evaders, illegal revenue collectors and contraveners of the state's tax laws.
The AVM Ben Chiobi (Rtd), who saw Mr. Governor's establishment of ANJET as a "child of necessity", has swung into action by appointing Hon. Chike Odoji as ANJET's Coordinator for Anambra Central Senatorial Zone; Mazi Chukwuma Okpalaezeukwu as the Coordinator for Anambra North Senatorial Zone, and Hon. Chijioke Okoli as the Coordinator for Anambra South Senatorial Zone. This would be followed by a later announcement of ANJET Coordinators for 21 Local Government Council Areas of the state.
The AVM took the ANJET team on public campaigns to create awareness of ANJET's existence and functions and sensitise the people for compliance with their tax obligations.
The sensitisation campaigns of last Thursday and Friday took the team to Building Materials Market, Zone 2/3, Ogidi and Ogbunike, Bakery and Grain Seeds Market in Ogidi; Tarzan junction at Nkpor; Head Bridge at Onitsha; Book Foundation, motor parks in Aroma, Regina Caeli junction, Unizik temporary site, all in Awka; Cow Market in Amansea to mention but a few. The ongoing campaign will spread to every part of Anambra State.
Taxpayers mostly in the informal sector – traders, drivers, keke operators or cyclists, park operators, operators of other businesses were reminded that the tax-grace period by the Soludo government had long elapsed. The AVM emphasised that ANJET has been created solely for the purpose of enforcing compliance with tax payments by bringing defaulters to book. He enjoined the people to ensure that they make their tax payments as calculated, given and directed by Anambra State Internal Revenue Service, AIRS. He stressed that an electronic receipt or sticker must be issued to every taxpayer on completion of the tax payment. It is only the electronic receipt that can certify any tax payment, nothing else.
The AVM made it clear that defaulters in the areas of tax matters will have themselves to blame and that ANJET will always work hard to strengthen the 4 cardinal pillars of Prof. Soludo's administration which include the rule of law and order, economic transformation, social agenda and environment. His words, "Any payments made through persons other than the banks or their designated POS operators, as taxes are criminal acts and the unauthorized or self-acclaimed tax collector must be ready to face the wrath of the law when caught, while the taxpayers themselves who accepted to be so tricked will also have to pay the required taxes after being duped by the criminals, as whatever money they give to the criminals cannot stand as taxes".
He therefore, advised people not to submit to any pressure from anybody, group or quarters to give them money meant for taxes or government revenues. For him, "It is an economic sabotage and a serious criminal act to give tax money to anybody, or to collect such monies meant for taxes from people. All those involved in the act will face the full letters of the law whenever such is uncovered".
The public and most significantly hoteliers and their managers; owners of schools and their managements; bank owners and their administrative heads; market leaders and their unions; motor park operators, drivers, keke operators, mechanics, MDs and CEOs of all companies, factories, business firms as well as government facilities, landlords and their tenants, owners of various SME's (Small Medium Establishments) in the state and every Onye Anambra and also, all other residents in the state were advised to ensure that they always take the monthly sanitation exercises as declared by the State Government very seriously.
The AVM (Rtd), also revealed that ANJET will enforce the observance of the monthly sanitation exercise throughout the state and, through the mobile court, see to it that defaulters are arrested, tried and booked or even sentenced as has been noticed in the past. Furthermore, having repeatedly maintained that ANJET will have to work more on the environment, he called on all those earlier mentioned above and all others who live and/or operate their businesses in Anambra State to promptly pay their ASWAMA (Anambra State Waste Management Agency) levies and taxes and to ensure that they dispose their wastes or refuse according to the instructions from ASWAMA. The ANJET boss also indicated that people who litter the environment with accident or damaged vehicles will be made to bear the heavy financial consequences of their actions as ANJET will deal decisively with such culprits. Such fate will also befall all those who contraven other environmental laws, waste management for instance. And on matters of physical development control the AVM warned those who distract developers by making illegal financial demands from prospective developers, saying that it is not acceptable by the government. Such persons will be made to face the full wrath of the law.
Going further, he called on the community leaders, mainly the traditional rulers (Ndi Igwe) and other stakeholders to warn their subjects especially those youths who now go to disturb developers and even go to the extend of seizing their working tools and heavy equipments for not giving them "ego ala," even after the developer has paid all the necessary money to the government and is also issued the C of O – Certificate of Occupancy – to desist from this unholy act of sabotage against the state, warning that such youths will better be ready for 5 year jail term, once apprehended.
The AVM released the official hotlines of ANJET – 09093170790 and 08156352767 – and invited the general public and taxpayers to report all sabotage on taxation and tax related matters to ANJET for prompt action. His words, "When you see something, do something".