Nwafor Orizu College of Education marks 40-yr anniversary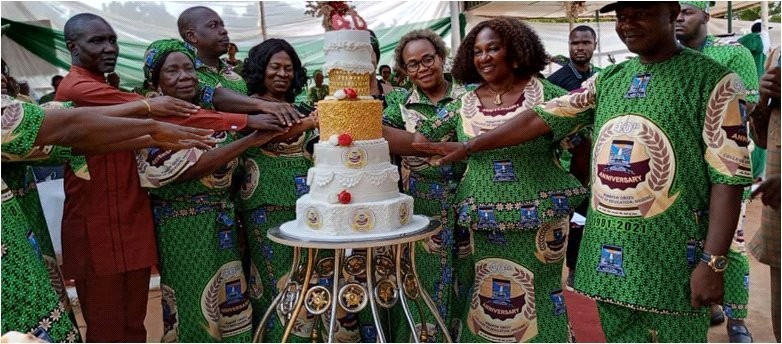 It was home coming and an atmosphere of nostalgia as the alumni association, staff and students of Nwafor Orizu College of Education, Nsugbe (NOCEN), converged to celebrate 40 years anniversary of their alma mater at Nsugbe, Anambra East Local Government Area, Anambra State, ANAMBRA PEOPLE reports.
In her speech, NOCEN Provost, Dr Ifeyinwa Osegbo narrated the history of the citadel of learning, saying that the old Anambra State Government established two colleges of education for the purpose of awarding Nigeria Certificate in Education (NCE) cited at Nsugbe and Ehamufu.
"This College of Education was established in 1976 as a Teacher's Training College (TTC) for the purpose of producing grade two teachers to man primary schools, but until 21st February, 1981, the then old Anambra State Government established two Colleges of Education.
"On July 1st, 1988, the TTC was obliterated, and after the creation of the new Anambra State in 1991, the College of Education, Nsugbe, was merged with Anambra State College of Education, Awka, making the two colleges one.
"Later in 1996, the college became affiliated to University of Nigeria, Nsukka for the purpose of awarding Bachelor's Degree in Education.
"On 30 September, 1997, the college was renamed Nwafor Orizu College of Education, Nsugbe, in honor of the first Nigerian Senate President, Dr. Akwaeke Nwafor Orizu for his immense contribution to education and politics in Nigeria and Africa", Osegbo said.
Dr Osegbo said that within the past 40 years, the institution has evolved and recorded tremendous achievements.
In her remarks, Anambra State Commissioner for Education, Professor Ngozi Chuma-Udeh, represented by the Director, Higher Education, Mrs. Oyibo Alor, described the institution as a great iroko that has significantly contributed to the enhancement of the education system of the state, while congratulating the college for the celebration and achievements made so far.
In a goodwill speech, the founding provost of the college, Professor Felix Ndu, represented by Dr. Chinwe Chijindu, said the college has recorded giant strides and remained one of the best colleges.
Chairman on the occasion, Nnadiume Oforkansi, who remarked that the college is now a community of its own, which has produced great persons in the society, expressed satisfaction with the level of transformation since 1981, while a son of Dr. Nwafor Orizu, Prince Africa Nwafor Orizu gave kudos to the current provost for the massive development and appealed to Professor Soludo to give the school more attention as it is the only institution that produces teachers in the state.
In a lecture titled 'NOCEN the Great Iroko of Knowledge', the college's coordinator, Centre for Education Technology, Dr. Mark Ofuefuna, said the vision of the school is to be a world class in academic excellence and foremost teacher training institution in Nigeria.
Highlights of the event included cutting of the anniversary cake, cultural dances from various departments and the award of prizes to best graduating students.