Anambra Youngest Female Cow Dealer Graduates at 24
It was a moment of joy as one of the youngest cow meat dealers in Anambra State, Miss Kosisochukwu Nwako celebrated her new status as a graduate, ANAMBRA PEOPLE reports.
Popularly known as Ogbuefi Kosisochukwu, the 24-year-old butcher, over the weekend, stormed the Orie Agbor Market in Nnewi, Nnewi North Local Government Area of the state to celebrate her graduation with her co-butchers, after having wrapped up her final examination.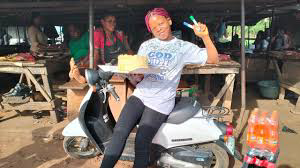 It was gathered that the young butcher graduated from the Federal Polytechnic, Oko, where she studied.
Aside butchering and trading on cow meat, she was also said to own her own personal cow ranch close to the market, with many cows of different sizes.
Miss Nwako was also said to have been combining her cow/meat business with her studies, with obvious commitments and efforts to make the best out of the two.
In a video that went viral on the social media over the weekend, the young cow dealer was seen with cake and drinks as she stormed the Orie Agbor Market to celebrate her graduation with her colleagues in the market.
The video also featured the co-butchers and market women congratulating and rejoicing with her, while also testifying of her outstanding character, dedication and hardwork.
"Kosi is a very hardworking and well-trained young girl, and has remained a source of inspiration and motivation to many other young people out there. She is the youngest among us here, but she stands out in many ways; and she dreams big too. Who would ever believe that she could successfully combine her studies with cow business? But, today, she is standing here as a graduate, to the glory of God and because of her dedication. In fact, Kosi is a role model to many. And we celebrate with her," Mrs. Helen, one of the co-butchers said (in Igbo language) during an interview.
Contributing, another butcher in the market, Mrs Uche Anyacho thanked God for Kosi's life, adding that, by her graduation, times are now gone when butchers and meat sellers were seen as illiterates or uneducated people.
"We now have graduate here. So, we will no longer be seen as people who did not go to school. All thanks to God who made everything possible. I also wish her a successful Youth Service and better job opportunities in advance," she said (also in Igbo language).
By Izunna Okafor, Nnewi
About Author