Cabals Cannot Manipulate Tinubu, Says Anambra Prophet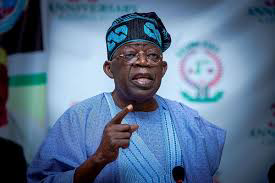 Anambra prophet, Bro Iyke Uzukwu on Tuesday said the President-elect, Asiwaju Bola Ahmed Tinubu, would deal with those he referred to as cabals that have held Nigeria captive, ANAMBRA PEOPLE reports.
He said Tinubu would not allow himself to be manipulated like the outgoing President, Muhammadu Buhari who he said did not live up to expectations
Speaking during an interactive session with journalists in Nnewi, Uzukwu, who is the Spiritual Head of Soul Revival Outreach, Nnewi, urged Nigerians to pray for the President-elect, assuring he would have a successful tenure.
He also enjoined the presidential candidate of the People's Democratic Party (PDP) Atiku Abubakar and his Labour Party (LP) counterpart, Peter Obi to forget about their cases at Election Petition Tribunal, saying the case would go the way of the February elections.
He said: "Prayers should be made for the president-elect to end his tenure alive. He would be a successful president but unfortunately, there is this cloud of blood hanging on his government.
"The implication of this is that a whole lot of politicians would be sacrificed for the success of his government."
The fiery prophet further urged Tinubu not to remove fuel subsidy until the nation's refineries were fixed and functional, noting that premature removal would cause both inflation and tension in the country.
Uzukwu also appealed to Western Nations to deport all Nigerians who have looted the nation's economy, at the same time assist the country return the stolen funds home.
"We keep hearing of Abacha loot all the time, but it is an open secret that it is not only Abacha's administration that looted the treasury of the nation. Why is the international community silent on the loots perpetrated by other administrations?" he stressed.
Expressing disappointment over President Buhari's purported intention to spend his retirement in Niger Republic, Uzukwu regretted his failure to fix nation's refineries in eight years contrary to his earlier promise to the nation.
He added, "President Buhari has never hidden his intention to run away from Nigeria after his tenure, as well as extending NNPC pipelines to Niger Republic and tarring roads linking Nigeria to Niger when many roads that would have alleviated Nigerian sufferings are left untouched.
"He failed to fix the refineries in eight years contrary to his earlier promise to the nation. N2.4b is said to be missing in the nation's cover at the moment. This is fast becoming President Buhari's signature tune.
"This has always been Buhari's exit plan and a major reason he didn't do well as a president."
About Author