Many injured as fire guts Polaris Bank, Savana foam showroom in Anambra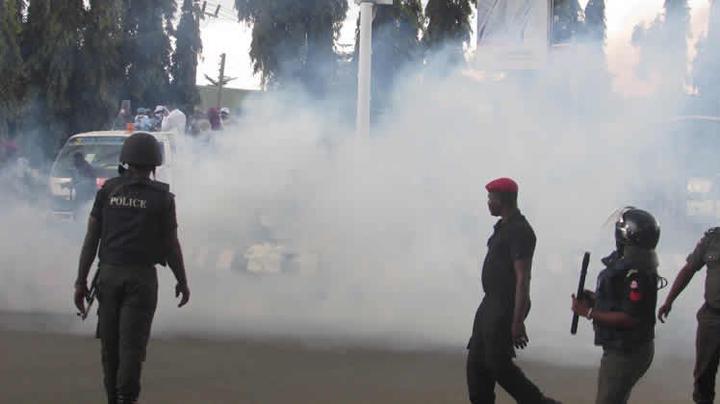 Fire has gutted Polaris Bank Nnewi Branch destroying property worth millions of Naira.
The fire which started at 12.30 pm destroyed part of the roof of the building housing the bank situated between First bank and AB Micro Finance Bank along Edo Ezemewi Road popularly known as Bank Road , Nnewi.
other properties of the bank destroyed included cables, ATM communications cables, air conditioners, part of the wall of the bank and louvers among others.
The fire also destroyed completely Savana foam show room which shared common fence with the bank.
The cause of the fire outbreak was not known at press time but some believed it was caused by electric fault inside the Savanna foam show room where it allegedly started.
Effort to reach the Polaris Bank manager, Nnewi Branch and the owners of the Savana foam show room manager and sales girl to speak on the matter proved abortive.
However, a senior official of Polaris Bank who did not want his name mentioned said the fire destroyed only part of the building adding that no casualties were recorded inside the bank.
The bank official said effort made to get the Anambra Fire Service to come to the help of the victims hit the rock as they failed to come. He said It was good Samaritans around that brought commercial water tankers that helped to put out the fire.
"Part of the building was affected. There was no casualty. We called the fire service, but they did not respond to our distress call. They did not come. We don't know the cause of the fire incident yet. It started from the Savana form showroom and we cannot ascertain the extent of damage done now. We cannot say the cost of the damage as at now", the official said.
When our correspondent, reached the scene of the incident, some windows were seen broken, soot from charred wood littered the ground, electric cables were seen cut and burnt while the ATM was partly covered with soot and deserted. Some people were seen removing burnt items, including charcoal from burnt wood while a man was seen with water hose from a water tanker and spreading water to put out some of the fire still burning some of the items from Savanna showroom.
The incident cased stampeded inside First Bank, Polaris Bank AB Micro Finance Banks and other banks which mistook the incident for an attack by gun men leading to many sustaining injuries as they run out of the banks and around to safety until they knew it was only fire out break. It also caused traffic jam along the Edo Ezemewi (Bank) Road, Nnewi.