Senator Ifeanyi Ubah Celebrates Daughter as She Bag First Class in Uk University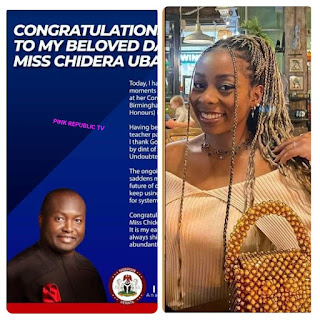 Today, I have been blessed to witness one of my proudest moments as a father as I joined my first and only daughter at her Convocation ceremony from Aston University Birmingham, UK where she bagged a B. Sc (First Class Honours) in Business Administration and Management, ANAMBRA PEOPLE reports.
Having been born into a modest family of struggling teacher parents, this has always been my aspiration. I thank God for his blessings today which was achieved by dint of hard work, determination and God's grace. Undoubtedly, determination makes a difference in life!
The ongoing ASUU strike which has lasted for 5months saddens my heart and gives me great concern about the future of our country and academic sector. However, I will keep using the instrumentality of the legislature to push for systemic reforms in our academic sector.
Congratulations to my beloved daughter; Miss Chidera Ubah on this momentous achievement. It is my earnest prayer that the divine light of God will always shine upon her and keep making her prosper abundantly in every aspect of life.
Senator (Dr.) Ifeanyi Ubah
Anambra South Senatorial District.